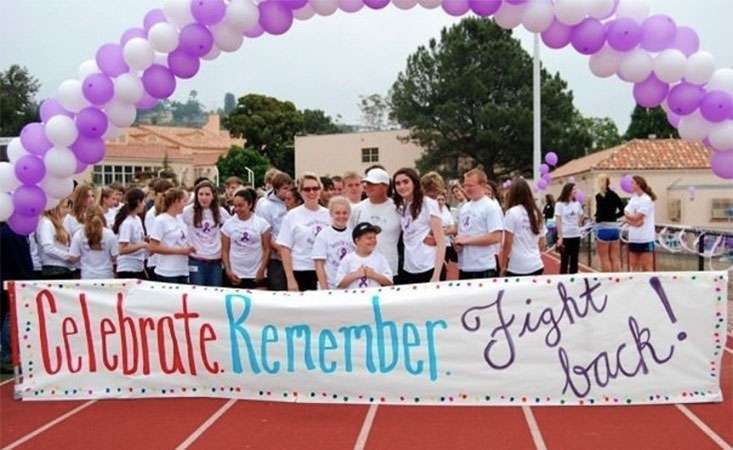 Editor's note: Maggie Walsh works for the Pancreatic Cancer Action Network in its Washington, D.C., office. She recently shared a story with fellow employees that hit close to home – both her current home in the Washington area – and her childhood home in the San Diego area of La Jolla, Calif.
I'm so happy to share something special that took place just a few weeks ago in early June 2019.
I pursued a career in fundraising and the fight against cancer because I lost my dad to brain cancer when I was 15 years old. After a few years of fundraising as a teenager, I had the idea to start a walk at my high school.
We had the first Teens for a Cure Walkathon in 2009. My beloved teacher and water polo coach, Tom Atwell, participated in the event. Atwell is a two-time cancer survivor and his wife is a breast cancer survivor.
At the first walkathon, we united neighboring schools and raised more than $10,000 to benefit the American Cancer Society. It was more than I ever could have dreamed of at that point in my life.
Fast-forward 10 years. I received a call from Coach Atwell that he and my high school – La Jolla High School in the San Diego area – wanted to support the Pancreatic Cancer Action Network (PanCAN) this year in honor of the 10th anniversary of the teens walkathon. Plus, he wanted to run 110 miles to celebrate the anniversary.
When I first started the event, Atwell pledged that he would run 100 miles to support me in spreading awareness and building excitement. I'm incredibly grateful to say he's been keeping our mission alive by running 100 miles ever since.
Every year, community members and students come out at all hours of the night and day to run with him. The most special part is that over the last decade, he has used this mission to honor and lift up families like mine in the fight against cancer.
He dedicates his run every year to different survivors and loved ones lost and provides so much support to families in our hometown. He's truly a local hero and inspires so many cancer patients and their families.
This year, I worked with La Jolla High School to make the walk an official Wage Hope My Way fundraiser to support PanCAN, as Coach Atwell had requested. Information about the event was shared with our San Diego Affiliate, since the high school is in their backyard.
As I was driving a cargo van around for PurpleStride Washington, D.C recently (I was getting ready for set-up for this event as part of my job!), I received a text that warmed my heart so much!.  It was a picture of my mom with Robert, a San Diego PanCAN volunteer and a two-time pancreatic cancer survivor.
My mom's text said: "Recognize him?"
I definitely did recognize him, but it took me a couple minutes to pinpoint why and how. Then I remembered!
Robert is the "poster child" for PanCAN's PurpleStride walks this year – his smiling face is on the homepage of all local PurpleStride event websites.
Robert had heard of Coach Atwell's story and went out to support the walk as a survivor himself. He shared his journey with my mom, how much PanCAN and PurpleStride has meant to him and his family, and how inspired he is to keep fighting and be involved. He was so inspired by Coach Atwell that the two of them have become fast friends.
Only two hours after Coach Atwell completed his 110 mile run, they were on the local TV news in San Diego, spreading awareness and sharing their stories and determination to create better outcomes for all cancer patients.
It warmed my heart to see – from 3,000 miles away – this connection and the community that is created by our efforts with PanCAN.
La Jolla High School created its Wage Hope My Way event webpage only two weeks prior to the event, but they went on to raise more than $7,000 for PanCAN. A big thank you to them and to all who contributed.
I'm so happy this little piece of home that means so much to me could be part of the PanCAN mission.
— Maggie Walsh, Community Relationship Manager, PanCAN