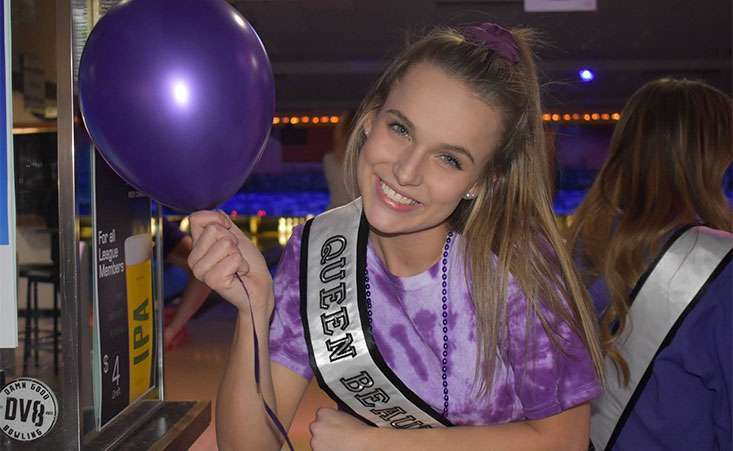 Editor's note: It's that time of year when kids are returning to school and their extracurricular activities – which may include fundraising for a cause. In honor of back-to-school season, we're republishing a previously written article about Phoebe Collins – a passionate pancreatic cancer advocate and fundraiser since she was 9 years old.
Harold Bruce Clark loved to bowl. When his granddaughter Phoebe Collins thought about hosting an event in his honor, she wanted to make it fun for families, but also something she knew he would enjoy.
Collins' first "Bowling for Bruce – Strike Out Pancreatic Cancer" fundraiser was held last year, on what would have been her grandfather's 72nd birthday, and took up half the bowling alley. This year, the venue closed to the public because the event filled every lane.
Collins lost her grandfather six months after his pancreatic cancer diagnosis in 2009 when she was 8 years old. The year after their loss, her family began attending a walk with another organization, which later teamed up with the Pancreatic Cancer Action Network (PanCAN) – introducing the family to PanCAN.
Also at that time, they started hosting a face-painting booth at her grandfather's hometown fair, and have raised more than $4,000. Collins worked on a variety of events and obtained proclamations for World Pancreatic Cancer Awareness Day in November.
During the first "Bowling for Bruce" event, Collins knew she'd be back the following year, saying, "I lost count of how many people asked if we were doing it again next year. It was such a hit!" And after year two, her fundraising total was nearly $4,500.
Collins advice for hosting your own Wage Hope My Way fundraiser?
"Make your event special to the person you are celebrating," she says. "Have it on a significant date to your loved one, do something they enjoyed or host it somewhere they loved going. No matter what you do, remember why you are doing it. We Wage Hope that future patients will have a better chance of survival."
Collins also suggested, "The easiest way to start getting involved is to find a PurpleStride® in your area," said Collins. "Build a team, make T-shirts, get all the purple stuff you can and have fun! Your team will want to do it year after year. We've been doing it for 10!"
Her final tip: "People love a good cause. If they can have a blast while raising money for that cause, they'll come!"