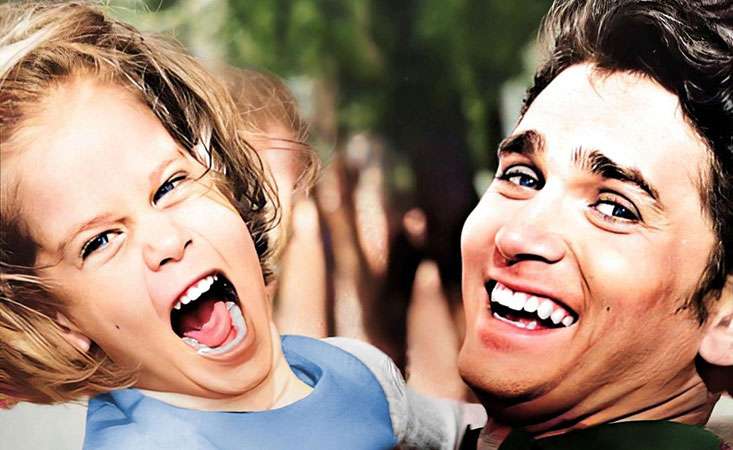 "Remember me with smiles and laughter, for that's the way I'll remember you all. If you can only remember me with tears, then don't remember me at all." – Michael Landon, from "Little House on the Prairie"
July 1, 2021 marks 30 years since the beloved actor, writer and director Michael Landon – best known for playing Little Joe Cartwright on "Bonanza," Charles (Pa) Ingalls on "Little House on the Prairie" and Jonathan Smith on "Highway to Heaven," among other famous roles – died of pancreatic cancer.
He was the first public figure to announce – in April 1991 – that he was fighting pancreatic cancer, and in doing so he brought much awareness to the disease.
A story published on our blog in 2014 featured an interview with two of his children, Jennifer and Sean, who reminisced about their memories of him; this blog is still the most visited blog on pancan.org – proof of the tremendous impact he still has.
In tribute to Michael on the 30th anniversary of his death, we asked his family to share how they keep his memory alive. Because, while we loved him in many of his roles over the years, it was his role as father that he treasured most.
From Michael's daughter Leslie Matthews:
We keep Dad's memory alive by celebrating his best qualities and incorporating them into our lives. My Dad was very loving and affectionate; he had an amazing sense of humor and laughter was always a priority in our home. He dedicated time to better the lives of others and was never too busy to help those in need. He was a storyteller and loved adventure.
I've made it a priority to put family first and love my husband and my children with all my heart. My kids grew up in a very loving home just as I did. We make time for each other and support each other's dreams.
My husband Brian and I have been married over 30 years and I love growing old with him. We laugh all the time. Finding joy and laughter is so important. My Dad taught me that – he was the most fun, and his laughter was contagious. In fact, his laugh is my kids' favorite. They all watched their grandpa's shows (especially "Bonanza" and "Little House on the Prairie"), and they got to know him through the screen, hearing his voice – and that famous laugh.
Dad never got to meet our children, but they hear the amazing stories and they know all about his life. I even took my daughter Catherine to the Laura Ingalls Wilder Museum in Missouri and read all the "Little House" books to her.
I see Dad in all of my children. I have two sons, Justin and Joe, who are filmmakers; my daughter Rachel is an actress, and Catherine is a songwriter and has a beautiful singing voice. For my birthday last year, she sang along with Dad's song, "Shenandoah," from "Bonanza."
My brothers Chris and Mike have his crazy talent as writers and directors. My sister Jen is an amazing actress and it's so fun to see these creative genes get passed down through the generations.
I'm incredibly blessed and thankful for the amazing life my parents have given us. Dad was so young, only 54, when he died of pancreatic cancer. He loved his life, travel, an amazing career with a dedicated crew and he cherished his family. All of this is important to pass down to my children!
Read more from Leslie about her dad's legacy on the 30th anniversary of his death in
People.com
.
*
From son Michael Landon Jr.:
I make films that honor my dad's legacy and I focus on the importance of family entertainment. Years ago, I wrote this to my dad and it holds true today:
Proud To Be Your Son
"I am proud of you because you set an example for hard work. Because you treat the little man as if he were big. I am proud of you because your work reflects what's right, not what sells.
I cannot go on any film set without hearing about the admiration they have for you and that makes me proud.
I am proud because you make people laugh and you make them cry; you touch their hearts, their souls, and their minds.
Millions of people around the world care about you because you stand for all the things in life that are good.
The list could go on and on, but I'm most proud just to be your son. I could never love you enough. I could never hug you or be with you enough."
*
From Michael's daughter Shawna Landon:
I keep my father's memory alive by living each day to the best of my ability and try being of service to others. I instill some of his strong beliefs in my children – to work hard, be a good human being and live each day to the fullest. Never take what you have for granted and whatever you want to do, do it now. There are only so many tomorrows. I miss my dad every day and strive to be the best version of myself to pass on his legacy to my family.
*
From Michael's son Chris Landon:
I try to honor Dad's memory every day, both personally and professionally. When I was a kid, Dad was pure joy and fun. He became a kid himself and would run around with all of us, being goofy and throwing himself into whatever adventure he had concocted with abandon. It was inspiring and infectious. As a parent of two young boys myself, I try to bring the same love and joy to my sons' lives. I can see his smile and hear his laugh when my kids are at play with me.
Professionally, I try to bring the same passion and compassion Dad was so widely known for. His sets were a welcoming place for all and his cast and crew were his other family. Emulating that kind of environment is my first priority, and I learned that from watching him at work. He was a true artist and friend.
*
From Michael's son Sean Landon:
I keep my father's memory alive by trying to honor what he stood for to the best of my ability. This is primarily being compassionate and loving, working hard, sticking up for the underdog and trying to live my biggest and best life as if every day could be my last.
Besides trying to emulate his values, I love watching any homemade footage or looking through pictures of him throughout his life. Of course, the shows still being on air is amazing and a blessing to be able to tune in, but for me a lot of the most appreciated media is what has been shared by my family and his fans. It is pretty amazing that there are still so many people out there that love and miss him, and I am always grateful when I get to see pictures or old TV clips I have never seen before. My father truly does have some of the best fans on the planet and I mean that, especially in regard to the integrity of their soul and character.
Pancreatic cancer is still underfunded with regard to research, and awareness and advancements in treatment are paramount to continue this fight. PanCAN Founder Pamela Acosta Marquardt, besides being an amazing person, has been fighting long and hard at advancing our position on this deadly disease and there could not be a better group of people at the helm than those who make up this phenomenal organization. I think it's extremely important to support them.
*
From Michael's daughter Jennifer Landon:
Some of my favorite memories of Pops were all the times he let me order pu pu platters just so I could say "poopoo" as a 5-year-old. And when he covered all the snow in the backyard with strawberry Quik and let me eat it. I recently started watching "Little House" from the beginning.
It makes me sad that pancreatic cancer still isn't getting the funding it deserves. It's such a swift and devastating disease. It had a survival rate of 4% at the five-year mark when my dad was diagnosed 30 years ago. Today it's 10%.The survival rate goes where the funding goes and I'm grateful to PanCAN for being vocal and indefatigable, and for reminding me that this fight is not nearly over. Brave, determined, tireless – this is PanCAN. We need to keep fighting and there is no better organization to do that with than PanCAN.
*
From Michael's wife Cindy Landon:
Michael was my gift. There's no one like him. He was one of a kind, smart, funny, loving, generous, humanitarian, a great father to my children and a great husband. He continues to be my inspiration. He worked so hard and always was of service to those in need. I miss him always, and I'm saddened that my children never had the opportunity to have their father in their lives. We talk about him often, though. The kids have heard so many stories and read a lot about their father. We have so many wonderful memories, and those will live on for eternity.
Everyone who worked with Michael loved him. He used to tell me, "I'm just a worker – we all have our part in one big family." Not a day goes by that I don't think of him. I see him in the eyes of my children. When I travel and experience all the beauty of this great planet I think of him. He once wrote, "Wherever you go in your travels and journeys, know that I will always be there with you. Please go and soak up all the beauty of this great planet."
Michael wrote me a wish book before he passed. I read it often and it makes me smile. Love is forever.
Michael, I'm sad that you left us too soon.
*
We extend a heartfelt thank you to Leslie, Mike, Shawna, Chris, Sean, Jen and Cindy for sharing their memories with us. We will keep fighting for progress for all pancreatic cancer patients, taking bold action to improve the lives of everyone impacted by this disease.
PanCAN i
s 100% donor funded and relies on your donations to fund critical research and our PanCAN Patient Services.
Make your gift
today. If you or someone you know has pancreatic cancer,
contact PanCAN Patient Services
for free, personalized one-to-one support and resources.