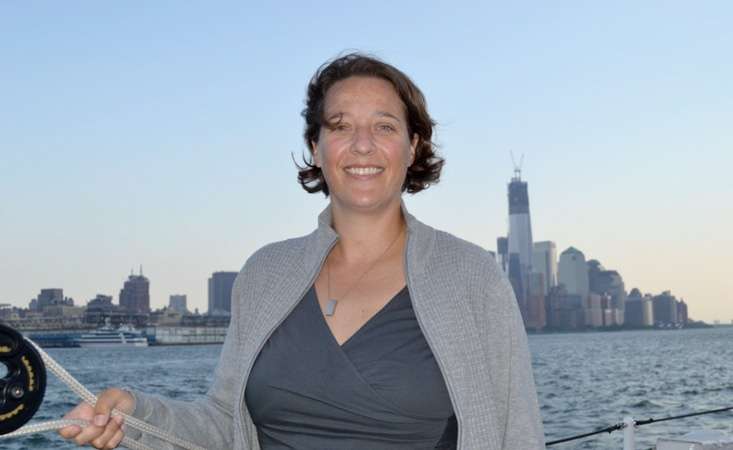 Editor's note: In honor of Teachers' Day on May 3, we are republishing this blog about an exceptional teacher whose influence inspired a transformational gift to PanCAN.
Molly Woodroofe was full of fun, warmth, joy and all good things. Her sister Louise Woodroofe, and Blair Parker, Molly's spouse, knew this to be true and so did Molly's wide circle of friends.
The sentiment was repeated at her memorial service. The family read it in the hundreds of comments on her obituary. And they hear it still, five years after Molly's passing of pancreatic cancer.
Everybody loved Molly.
"You made me a better person," Blair had said in a tribute to Molly at her memorial.
They met 10 years prior, when they were both young teachers in Washington, D.C.
"She helped me take myself less seriously," Blair said. "She encouraged me to have fun on school nights, which I had never allowed myself to do. As someone else who knew Molly said, 'She took her role as teacher very seriously, but she never took herself too seriously.'"
Molly was a history teacher and went on to become the first female varsity soccer coach at St. Albans, a private all-boys school in Washington, D.C.
Louise said, "The boys she coached loved her mischievous personality. She would tease them and rib them. She had a great sense of humor and was very enthusiastic and approachable."
Molly collaborated with family on her obituary. She and Louise researched organizations that would be appropriate and meaningful for tribute gifts. In the obituary, she requested that memorial donations be sent to PanCAN. And they were – hundreds of donations poured in.
In a testament to the impact Molly had on countless students and friends, an anonymous gift of $1 million was also made to PanCAN to honor her memory.
Her family was grateful to learn of this gift – and proud. They hope the funding can lead to a breakthrough in early detection so other patients can have more time with loved ones.
Today, Nov. 11, 2021, would have been Molly's 46th birthday. She always loved birthdays and gatherings. She enjoyed making grand plans and inviting many people to take part. She especially loved connecting people and watching new relationships form.
Looking Back
The sisters always had each other's backs. They were Pictionary partners who never lost. They were loyal, never telling on each other or spilling each other's secrets.
Louise chuckles when she remembers the time Molly abruptly walked offstage during a dance recital when she was 5 years old. She just wasn't enjoying it.
"I did gymnastics, and our parents had signed Molly up for tap and ballet, which we soon realized were not her thing. But she also started playing soccer around 5, and she was good from the start. She went on to become an exceptional athlete."
Molly also took up basketball, and later, golf and squash. She was an All-Ivy soccer standout at Yale University and coached soccer at private schools in Connecticut, Washington, D.C., and New York City.
When Molly started having back pain and fatigue at 39 years old, it was easy to explain. Sports caused back pain, she said, and also, wasn't she always tired from teaching and coaching? But they were actually symptoms of pancreatic cancer, and Molly was diagnosed in October 2015.
She was the History Department Head at The Spence School in Manhattan at that time.
"She never faltered," Blair said. "She continued to participate in school. In fact, she attended Spence graduation in June 2016 and then immediately went to the Emergency Room at Memorial Sloan Kettering, where she was admitted."
She died the following month.
For several years after, Louise would find herself thinking she needed to text Molly to share a great sports moment, or something she knew Molly would find amusing.
"When Molly was somewhere beautiful on vacation and she knew I was at my desk at work from 9 to 5, she would text me a picture of herself with a glass of rosé in a gorgeous vineyard, or on a golf course or hiking trail. The text would always say, 'What are you doing now?'
"Anytime I have a great view, I want to share it with her…to text her and ask, 'What are you doing now?'"
Looking Forward
Molly was an optimistic person, and she was optimistic throughout her diagnosis, all the way until the end, and even during frustrating times, Blair said.
"As a lifelong athlete, Molly was very good at setting short-term goals. During her pancreatic cancer fight, hitting a goal like finishing chemo was met with another goal – schedule fun things.
"She was not interested in the pancreatic cancer statistics or timelines."
What she remained interested in was nurturing her relationships and connecting with friends.
"She cared deeply about people and always wanted to make sure they knew how special they were to her," Blair said. "She celebrated the friendships. It would be important to Molly that her friends and all the people she connected have remained close."
Blair has remarried and just last month, celebrated the birth of her second child with her spouse, Beth. Her oldest son's middle name is Reed – Molly's middle name. She is still close with Molly's parents and with Louise, whom she considers a sister. Strong, lifelong connections that live on.
Just as Molly would have wanted.
Make a donation
in any amount to fuel progress in early detection and research breakthroughs for pancreatic cancer.