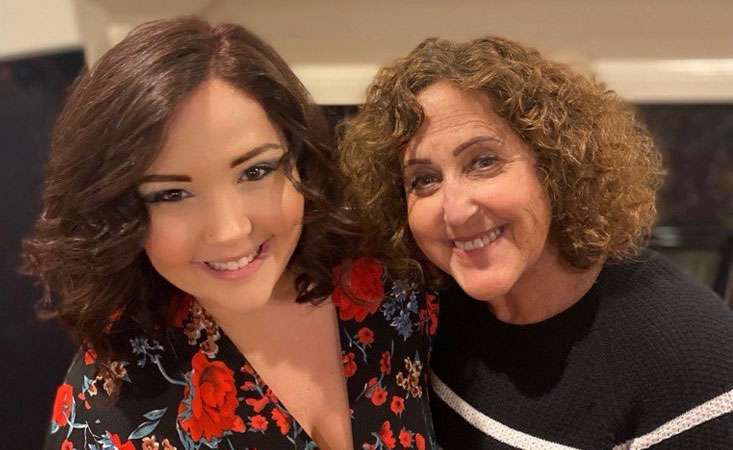 When it comes to a dynamic duo, Debbie and Mikki Bennett are the mother-daughter pair taking the pancreatic cancer cause by storm.
This Kansas City and Southern California team has been using their own unique talents to support PanCAN for nearly 20 years. After Debbie's mother, Naomi, was diagnosed with the disease in 2003, Debbie knew she needed to do something. At the time there were very few survivors that she could talk to who would give her hope for her mom's future. She knew we needed more survivors, and she was going to stop at nothing to do what she could to help. It was just six months after diagnosis that Debbie's mom, her inspiration, was gone.
In 2003, Debbie saw an organization making bracelets to support a more commonly known cancer. She figured she could do the same to support the cancer that took her mom's life.
One day she went to the store and purchased $50 worth of supplies to make bracelets that she, too, would sell to raise funds. Debbie began using her creativity and her mom as inspiration to create her business, Naomi's Bracelets. In the beginning, it took a little longer, but now she says she can make one in about 15 minutes. She sold them at her daughter's school and even in a few small boutiques.
Four years after Debbie's mom passed away, her father, Ralph, was diagnosed with the same disease. Stage IV pancreatic cancer. Her father was 79 at the time and lived just three weeks after the day he was diagnosed.
Having lost her mother and father to pancreatic cancer kept Debbie focused on what she could do to help PanCAN bring more awareness to the world. She kept going, kept creating, kept trying new designs.
Now the Naomi Bracelet is sold exclusively online in PanCAN's Shop Purple store.
Asked what keeps her motivated to continue making the bracelets, Debbie said, "One day I was at the airport, and I saw a woman wearing one. That was inspiring. And everyone should know about this horrible disease. It's my passion and I always want to keep more awareness focused on it."
While Debbie was focused on bracelets to support PanCAN's work, her daughter Mikki decided she was going to get in on the good work too. For her bat mitzvah, she began creating purple notepads with a purple ribbon and the words, "Fight for a cure." Mikki, just 12 at the time, sold her creations at a local golf tournament, to friends and to neighbors. She raised about $200 for PanCAN and she couldn't have been prouder of the impact she made.
Fifteen years have passed and Mikki is still fighting for a cure. As a member of the marketing team for HBO Max, Mikki now gets to use her creativity to make an even stronger impact. When she began working on marketing for the show, "Made for Love," she learned of a new storyline. One of the main characters, played by Ray Romano, was diagnosed with pancreatic cancer and had decided to live out his days the best way he knew how, without treatment.
The storyline affected Mikki deeply, as she knew the pain of losing two grandparents to the disease. She then pitched the idea to the team of incorporating pancreatic cancer awareness materials in their marketing efforts and was met with praise for the idea. Mikki used her talents to connect PanCAN with the HBO Max marketing team to create a beautiful partnership. Together they developed an insert that went out to influencers that explained pancreatic cancer, the character's diagnosis, and how they could learn more.
It was a huge success, as their influencer network shared more detail on the disease and how their followers could learn more. HBO Max decided to make a generous donation as well to support the incredible work being done at PanCAN. It was an all-around win for pancreatic cancer.
When asked how it felt to follow in her mom's footsteps and help bring such an important cause to light, she said, "It was a really amazing thing the way that my mom built this bracelet business to support PanCAN. To see the connections and the way something so positive can be formed from such a devastating experience, is beautiful.
"Everyone at HBO was really moved by the personal connection. It didn't take any convincing at all. It was just a matter of orchestrating the conversation. They all worked together so well and were excited to make the partnership happen. I'm just so honored to be a part of it and hope to find more ways both organizations can work together in the future."
Written by Jamie Foltz