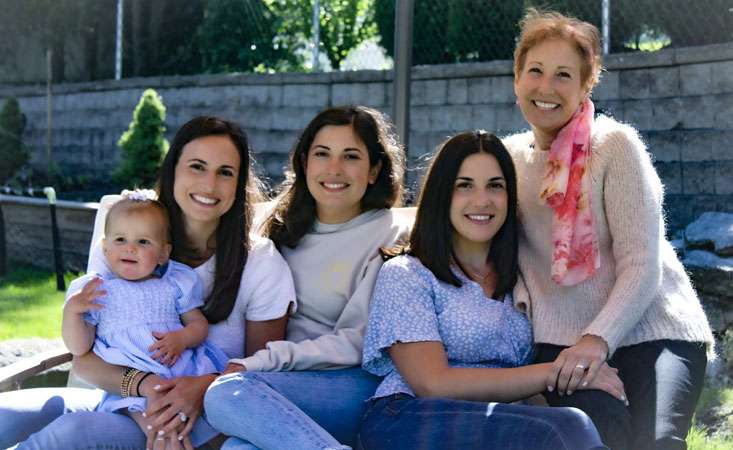 Editor's Note: We are saddened at the passing of Leanne Santa-Donato on September 21, 2022. PanCAN sends deepest sympathies and heartfelt condolences to Christa and her family. Christa wrote this blog post in July of 2022 celebrating all of the ways her mom inspires her and her two sisters.

My mom was diagnosed with stage IV pancreatic cancer in April of 2021, just days shy of her 59th birthday. Of course, like everyone else who has been through the cancer diagnosis of a loved one, I felt complete and utter shock. I remember thinking that I was dreaming, that this could not be real life. My two sisters and I had no idea how long we had left with my mom – a realization we found difficult to talk about. It was unbelievable that such a healthy and lively person, with so much love to give, could be diagnosed with such a disease.
I quickly realized that unfortunately, we were far from alone. When I came across PanCAN's survivor stories, I ended up spending hours reading. These stories helped me to realize both that the feelings we were experiencing were universal, and that no two journeys are the same when it comes to this disease. I was trying to find a story to hold onto -- one that would give us hope.
My heart would sink every time I read a story that did not have a happy ending. My heart sank for my mom, but also for the family who had experienced such sudden loss. At the same time, I had so much admiration for folks who had been through the worst and were still willing to share their stories.
These stories have inspired me to share more about our journey – what's helped our family, how we've navigated treatment options, and how my mom's spirit has lifted us all.
While my mom has always been an inspiration to us, she really took it to the next level with her fight over the last year. She's always been a cheerleader at heart -- from cheering us on at our high school sports games, to encouraging us to go to the best colleges, to checking out campuses with us and moving us into our dorms.
She's been cheering us on through every stage of our lives, encouraging us to always "go for it!" with job interviews and new opportunities that would come up for us. She is the best grandmother to my older sister's three little children. She cheers for them too. When my mom was first diagnosed, the first thing my brother-in-law said was, "We can't imagine taking the kids to Disney World without Omi there."
My mom has brought her loud cheerleader spirit to her fight against pancreatic cancer. She is a social butterfly (her friend circle is BIG, which has also been extremely helpful), and she even formed a network of other women who have been fighting this awful disease. Unfortunately, becoming friends with others diagnosed with pancreatic cancer also means suffering loss along the way. Even through these losses, she has managed to stay positive and grateful.
One shining example of this spirit was in April of 2022, exactly one year since her diagnosis, and a few days before her 60th birthday, when I celebrated my wedding. Seeing the love and joy my mom had that night, you would have never in a million years guessed that she was living with stage IV cancer. She found a way, with no eyebrows, eyelashes or hair, to look absolutely stunning! You wouldn't know that she had been receiving chemotherapy every two weeks for the past year as well as bloodwork, appointments, scans and dealing with "scanxiety" every time we had another one scheduled.
I think it helps that in between all of those treatments, my mom lives life. Over the last year, we have gone on many trips and we have a few more in the works. Having things to look forward to has been the best medicine. We've spent more time together this last year than we ever have.
Looking ahead, we are getting ready for a new phase of my mom's journey, a transition we've gotten used to as navigating treatments, medications and appointments has become our second job. My mom first started out on a chemotherapy drug through a clinical trial that didn't work well for her. In consultation with her healthcare team, she switched to Gemcitabine + Abraxane, a standard chemo combo for pancreatic cancer. While most of her tumors have shrunk (yay!), the ones in the peritoneum area have continued to grow. Her doctors agree that it's time to switch treatments.
Now over a year since her diagnosis, my mom qualifies for a new immunotherapy clinical trial, which is different from chemotherapy. Unlike chemotherapy, which uses drugs to slow or stop the growth of cancer cells, immunotherapy helps fight cancer by teaching the patient's own immune system how to identify and destroy cancer cells.
Although this treatment has been successful in other cancers, such as rectal cancer, we have learned that it is very new for pancreatic cancer and is still being heavily researched. My mom feels good that she is helping doctors and future patients by participating in trials – another example of her giving spirit. I hope that someone reading this who has been newly diagnosed can find hope in these new trials coming out every day that stand to help stage IV patients.
While at first we felt like the most unlucky people in the world, we are now very grateful for everything helping us through this journey. We are thankful for PanCAN's resources and survivor stories. We are grateful that we have access to such amazing medical care as well as such a large and supportive network of family and friends. Between my two sisters, my dad, my husband and my brother-in-law, we have support, love and care all around us. This is what's gotten our mom, and us, through this past year.
Contact
PanCAN Patient Services
for a free clinical trials search and to learn more about treatment options for patients with pancreatic cancer.
Any treatments, including clinical trials, mentioned in this story may not be appropriate or available for all patients. Doctors take many things into account when prescribing treatments including the stage and type of cancer and the overall health of the patient. Contact PanCAN Patient Services for personalized treatment options.