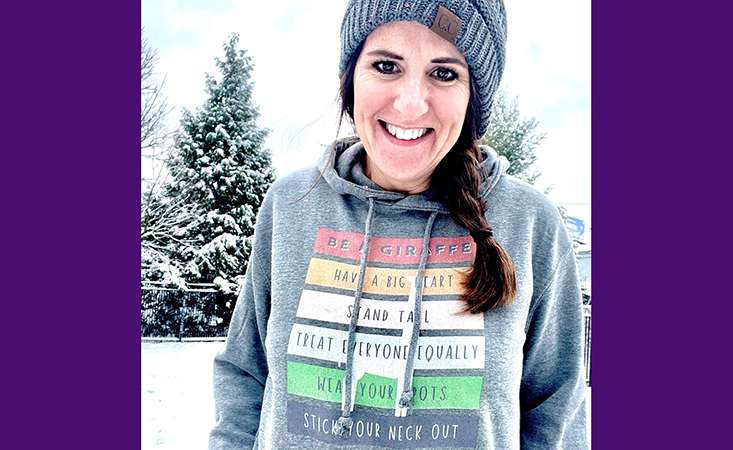 Editor's note: On World Storytelling Day, PanCAN volunteer leader and PanCAN blog contributor Jamie Foltz writes from the heart about why sharing stories is so meaningful to her.
I've always loved a good story. Preferably one with a happy ending. For as long as I can remember, writing stories and listening to others tell theirs has filled me with intrigue and given me the outlet to express what's happening inside my heart.
So when the opportunity to tell more of the amazing stories of our PanCAN family arose, I was all in. In August of 2021, I started writing for PanCAN's blog, giving me the chance to connect with those across the country who have been impacted by pancreatic cancer. But that's not where my journey with PanCAN began.
It was on March 27, 2012, the day my mom was diagnosed with stage IV pancreatic cancer, that my life was forever changed. And 61 days later she passed away. My family and our friends knew that it was up to us to carry on her memory and do what we could to try and create change for others who would one day face what we were facing.
We created a 5K fundraiser in Bowling Green, Ohio, called The Sundae Stroll. My mom owned an ice cream business there, so we started and ended the event outside the business. Everyone that crossed the finish line received a perfect ice cream sundae with bright purple sprinkles. She would have loved to have seen how many people showed up every year to honor her.
In the eight years we hosted The Stroll, we raised nearly $125,000 for PanCAN. It is still one of the things I'm most proud of.
March 27 will be the 10-year anniversary of Mom's diagnosis.
While The Sundae Stroll has taken a bit of a break, I now serve as the PurpleStride Chair for PanCAN PurpleStride Columbus. Pancreatic cancer is such a devastating disease and I'll do everything I can to help more people find hope in the face of it.
That's my story. At least the purple part of it. The other parts are filled with hope and optimism for an entirely different reason. You see, in 2019 I was managing the fundraising and special event team for a large nonprofit in Columbus. I was surrounded by amazing humans every single day. It was the norm for me to see volunteers giving of their time, donors giving of their resources, and families giving of their hearts to others in the same situation. I knew there was still so much good in the world that we just weren't seeing. The headlines had become so heavy and I knew 2020 would be an election year (and we all know how those go).
It was in April of 2019 that I left my job, taking the biggest leap of faith of my life. I was pretty confident that my mom was there with me when I jumped. Not long after that day, I officially launched my business, a startup publishing social enterprise that would share only positive stories, happy news and good ideas to make the world better.
The company is called Giraffe. Our logo is a giraffe. Our motto from the beginning has been, "Be a Giraffe." But what a lot of people don't know is that the giraffe was my mom's favorite animal. So, I decided to tell a story about why the giraffe is all things good.
They have huge hearts (weighing upwards of 25 pounds). They always stand tall and even in the most vulnerable situations keep their head held high. Giraffes all have entirely different patterns on their skin. No one giraffe looks alike. They travel in groups called towers and there is no hierarchy in a tower. So even though each giraffe looks entirely different, they are all equal in the eyes of the other giraffes. And lastly, they stick their necks out for others. I believe that if we all can emulate the qualities of the majestic giraffe, we can create ripples of good throughout this world.
That is The Giraffe Effect and it's also the name of our quarterly magazine. The Giraffe Effect is designed to bring more joy, positivity and hope to the world. The stories I tell are about people, companies and nonprofits doing good. We share images that are so positive, they need no caption. We have The Happy Planner in each issue that helps our readers plan out their kindness activities, the people they want to celebrate, and the self-care they plan to do throughout the month.
Each issue even has Tear and Share Compliment Cards that can be torn out and left for others to help make their day a little brighter. Everything that we share is positive and meant to help people feel better about the world we're living in. In the next issue, we'll feature one of our more well-known PanCAN survivors as she reaches a milestone anniversary that she plans to mark with a pretty big leap of her own.
The world is full of stories these days. Many are good and as you already know, many are much more complicated. My greatest joy is being able to bring out the good that comes from any situation, from any story. I thank you for reading the blogs I have written for PanCAN.
The people I've had the pleasure to meet are what makes this organization so special; the staff, the volunteers, the advocates, the caregivers and most importantly, the survivors. For it's in their story that we find everything we need in this world – hope.
Donate
today to change the future of pancreatic cancer – and ensure there are more survivors, more stories and more happy endings.