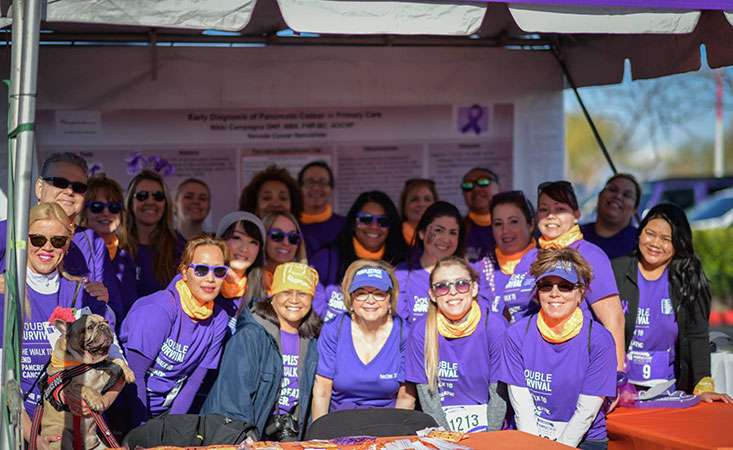 PanCAN's a big fan of OptumCare Cancer Care in Las Vegas and the feeling seems mutual.
OptumCare has been supporting PanCAN's PurpleStride Las Vegas for four years in a row. In 2018 and 2019, they co-sponsored the event. In 2020 they became a presenting sponsor and will continue in this role at the upcoming Vegas event on March 20.
Nicoletta Campagna, an OptumCare nurse practitioner serves as team captain for the OptumCare Cancer Crusaders.
Deck yourself out in purple and join them in the fun – it's free to
register
!
OptumCare tailors treatments specific to patient needs, offers access to psychosocial resources and helps patients manage diet, physical activity and more.
Part of United Health Group (UHG), they treat pancreatic (and other) cancer patients, so fighting the disease through fundraising was a natural fit for them.
Nicoletta said, "Every day, we see the devastating effect pancreatic cancer has on patients, family members and caregivers. We want to be part of making a positive change for them and increasing the five-year survival rate."
UHG encourages their employees' charitable giving by offering matching donations and donations to a charity of their choice in exchange for volunteer hours.
The team agrees the comradery at PurpleStride events is like no other.  "It is amazing to see the commitment of the Nevada Affiliate volunteers – they're taking Las Vegas on a trajectory we have not seen before from a peer volunteer group.  We need to support this level of commitment," said Nicoletta.
When the OptumCare Cancer Crusaders see the survivors take the stage each year, they beam with pride and sincere gratification in seeing the many familiar faces of those they have provided care for.
They've witnessed the power PurpleStride has to bring the community together and increase awareness for pancreatic cancer as well as raise funds to increase treatment options.
PanCAN is grateful to OptumCare for being a faithful PurpleStride Las Vegas sponsor and to its employees for their generosity and dedication to fighting pancreatic cancer.
Even though PurpleStride Las Vegas will again be virtual this year, Nicoletta said, "We're looking forward to coming together to do something we always feel good about and know makes a difference."
There's still time to register for PurpleStride Las Vegas 2021 – it's
free!