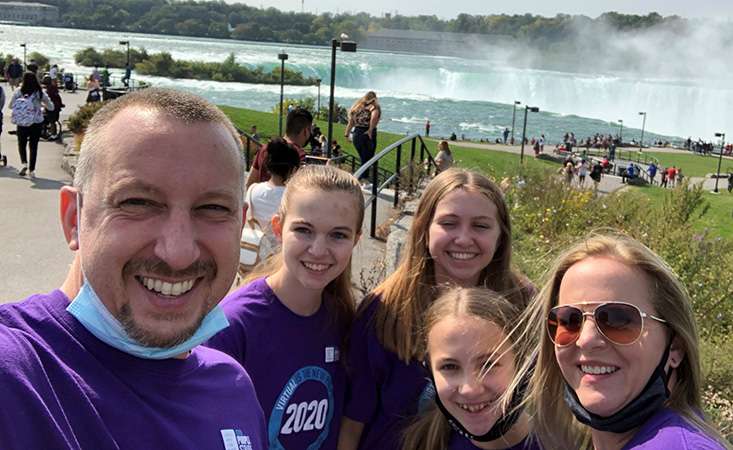 Jennifer Schiffmacher asked herself the question many do after losing a loved one to pancreatic cancer: What can I do?
For Jennifer, that question was answered when she became the Advocacy Chair of PanCAN's Western New York Affiliate.
In 2014, after her mother, Nancy, passed away from pancreatic cancer, Jennifer's search to do something brought her to PanCAN – an organization she wished she had known about during her mother's journey with the disease.
"When I met our Affiliate Chair, Lynn, she was so amazing. She was looking to find other volunteers to take on leadership chair positions in the Western New York Affiliate, and I thought Advocacy Chair might make sense to me, but I wanted to take time and think about the role, because if I was going to do it, I was going to give 100%," Jennifer said.
The next morning, Jennifer spotted a cardinal outside her kitchen window. The cardinal had been her mom's favorite bird. She took it as a sign. Jennifer has been the Advocacy Chair since 2019.
Jennifer is a senior trial attorney for Nationwide (the insurance and financial services company). Each year, the company honors its employees, who are nominated by their peers, for the volunteer work they do in their communities. Jennifer is one of nine employees who were honored this year. Besides recognition for the good she does on behalf of pancreatic cancer patients and their families, Nationwide also gave a $1,000 grant to PanCAN in her honor.
When asked how it feels to be recognized by her employer, Jennifer shared that it was exciting and humbling for her to be honored, but what she cares about most is the awareness it brings to pancreatic cancer and PanCAN.
"When it was announced that I was an honoree, I had a number of people reach out who have been affected by pancreatic cancer. You feel a connection with that person, realizing that you are not alone," Jennifer said.
Jennifer credits her family for giving her the support she needs to balance a career and volunteering.
"I couldn't do what I do without the support of my husband, children and my employer. My husband understands when there are meetings, emails, and calls to be made. My kids help me with the technical side, like preparing PowerPoint slides and helping me with social media. And my employer fully supports volunteer work."
Right now, Jennifer is focused on PanCAN Action Week 2021 on Monday, June 14 and encourages those who haven't yet registered to do so today.
"Congress needs to see our faces, even if it's over Zoom. They need to hear our voices and our stories – that's what they remember. They know the facts, but it's the stories they'll take with them. When they hear us, they realize just how many people this affects," Jennifer said.
And for anyone who might think grassroots advocacy doesn't work, Jennifer has the facts that prove them wrong.
"Congress increased funding from $6 million to $15 million for the Department of Defense's Pancreatic Cancer Research Program in the FY21 budget," Jennifer said. "That's our efforts at work."
Jennifer plans to keep building relationships with members of Congress and getting to know them on a personal level. She's currently on a first-name basis with one congressperson's Chief of Staff.
"Set aside your personal political feelings to get the work done – pancreatic cancer research is a bipartisan thing. Talk to everyone – you don't know who this person will become down the road, maybe even president. Make sure they know who PanCAN is and what we stand for."
We're all advocates – you included!
Take action today
and make progress for pancreatic cancer patients.