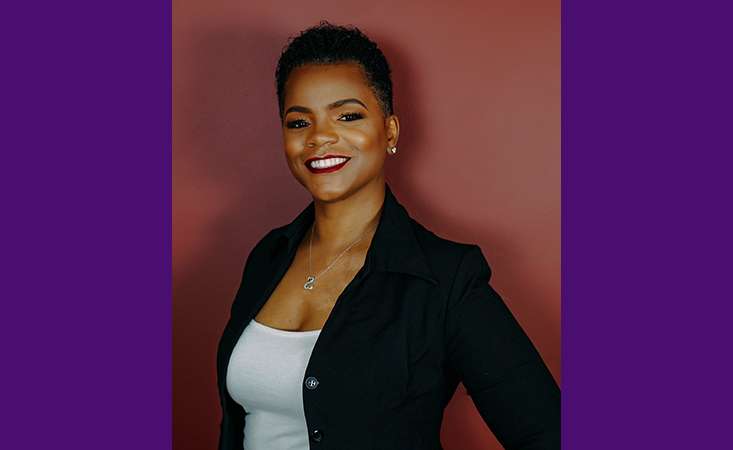 "Did they make me better, stronger, faster?"
That's what Nayana Ferguson remembers asking nurses when she woke up from the Whipple surgery she had to remove her pancreatic tumor.
After all, she figured undergoing an eight-hour surgical procedure should have turned her into the Bionic Woman.
Her surgery was Nov. 14, 2005 – only two weeks after her pancreatic cancer diagnosis. She was still in shock.
A Warning Sign that Couldn't Be Ignored
"I remember driving to work on Halloween, and my teeth began chattering uncontrollably," Nayana said. "My coworker called an ambulance for me and, when I arrived at the hospital, I had a 106-degree fever."
That fever turned out to be Nayana's only indication that something was wrong in her body. Physically fit, the 32-year-old had been training for a marathon. Nayana had multiple tests to determine why she had such a high fever. One of those tests was a CT scan, and that's when she learned she had a mass on her pancreas.
Nayana's Whipple surgery didn't end up turning her into the Bionic Woman – in fact, it took several years to adjust to her new normal.
"I left the hospital with three tubes in my stomach and unable to walk," she said. "I was on several medications, including pancreatic enzymes."
Even with the help of enzyme supplements, Nayana couldn't eat normally. She recalled drinking dietary supplements and eating "tablespoons" of food at a time. She still isn't able to digest large amounts of sugar.
"I needed to allow my body time to heal, and I needed to relearn my body," Nayana said.
Following her surgery and radiation treatments to remove residual disease, Nayana has had no evidence of pancreatic cancer. She has, however, suffered other health setbacks.
A year after her pancreatic cancer diagnosis, Nayana spiked another high fever. This time, she was diagnosed with neutropenia, which causes dangerously low white blood cell counts. She's had several bouts with this condition over the years.
And in 2012, Nayana found out she had breast cancer and went through surgery – a lumpectomy.
As a result of her experience with cancer, she decided to undergo genetic testing to know more about any risk factors she could have passed along to her children – two daughters, ages 26 and 14.
"I never knew that there was a possibility that I was going to get pancreatic cancer," she said. "No one in my family has ever had it, but maybe there are some genetic markers."
She wants to make sure her daughters are armed with knowledge.
"We've already started those conversations," she said. "Once I get my information back and speak with the genetic counselor, I will go over it with them as well. It's all about knowing the possibilities – you don't have to be taken by surprise and then try to figure out what you're going to do. You're able to get information, you're able to get support. That's important for me, especially with my children."
Empowering and Inspiring Others
A financial analyst by training, Nayana and her husband took a leap in 2018 when they founded a company: Anteel Tequila.
Nayana is the first Black woman to co-own a tequila company.
"I believe that we – women – can do anything we put our minds to," she said. "The tequila industry is dominated by white men, but I've been successful through hard work and determination."
The company has garnered awards and attention. She has been featured in major media outlets and has been invited on television talk shows to share her story.
Every chance she gets, she talks about her cancer journey to help empower and inspire others.
"I have had a lot of people tell me about their experiences," she said. "I had one woman with a friend who has pancreatic cancer recently contact me and say, 'I'm so grateful you're telling your story and my friend would love to talk to someone who has survived this.' I do follow up and speak with people who reach out."
Her involvement with the PanCAN Detroit affiliate of volunteers has given her the opportunity to meet others affected by the disease and exchange stories about their experiences. And she's looking forward to PurpleStride in her hometown of Detroit on April 30.
As a cancer survivor and entrepreneur, Nayana strives to be a role model for her daughters and an inspiration to others facing a cancer diagnosis.
"Every bottle of tequila Anteel produces has our company tagline on the back label: 'Create Your Legacy.' I believe I'm still here for a reason. I believe I'm here to inspire others and share my story to give them hope."
Join the movement to create a better future for pancreatic cancer patients.
Get involved today
.