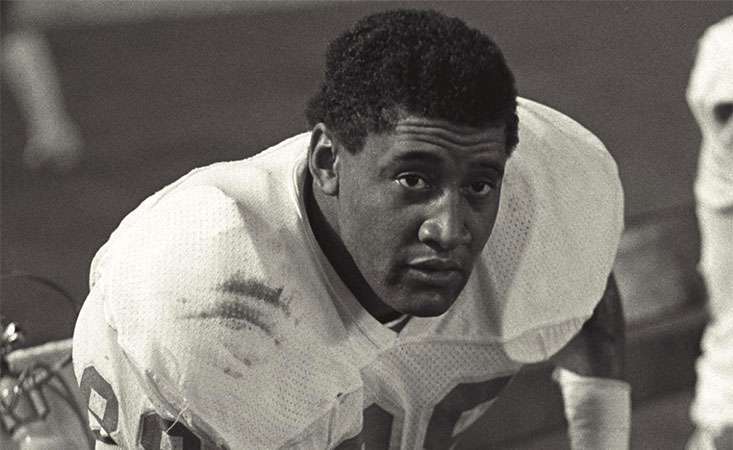 Editor's note: This week, we're featuring a series of stories celebrating – and remembering – beloved fathers in honor of Father's Day.
For five years, Walter White was a league-leading tight end with the Kansas City Chiefs. After he left the NFL playing field, White's legacy continued to grow. Whether co-founding the Kansas City Ambassadors (former players and executives) to conduct outreach and charity events in the area, serving as the group's inaugural president, volunteering his time for multiple local organizations or as a long-time executive at Commerce Bank, White worked tirelessly for his community.
When White passed from pancreatic cancer in April of 2019, his family lost their beloved husband and father and Kansas City lost a force of nature.
Whitney White, Walter's daughter said her dad would always say you need to "take it to the next level."  And that's exactly what his family did for PurpleStride Kansas City this year. Walter's wife Jeri, and children Whitney, Adam and Jason reached Elite Team status, with #www88 Walk for Walter raising more than $17,000.
"I think in anything we do in life, especially anything we do in honor of him, we have a commitment to do just that," she said. "Take it to the next level."
"We were able to raise so much because Walter was bigger than life. He gave back to his community and beyond. His memory is what raised this money," said Jeri. "It's unbelievable with everything else going on right now that people are still donating in his memory. My family and I are so humbled by the outpouring of love in his memory."
The White family found the Pancreatic Cancer Action Network after his passing.
"I was very unaware of the deadly reality that pancreatic cancer poses," said Whitney. "I know what our experience felt like, and I want to do anything I can to help raise awareness and funds to help fight back so others don't have to go through the pain and suffering of the disease."
When PurpleStride® went virtual the White family, while disappointed, was immediately on board. "In reality, we ended up having more people walking with us than we probably would have in person in Kansas City!" said Whitney.
Although looking forward to PurpleStride 2021 in person, the White family was thrilled with the reach of the virtual experience. "I had friends I had not talked to at all posting pictures or donating in the last couple of days because they'd seen other friends of mine post about it!" said Whitney. "I think being mindful of the power of social media especially during a time like this helped us."
"My father was not just a loved man, he was a respected man. Aside from his family, his number one passion was helping other people," said Whitney. "Ultimately, this disease took a great man from a lot of people's lives far, far too soon and we just want to do anything we can to continue to support this cause."