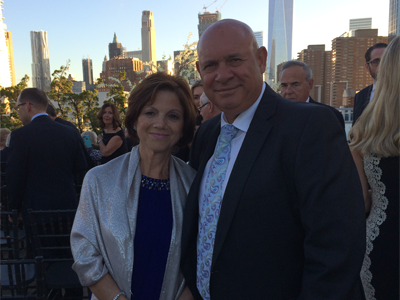 Editor's note: Sadly, Josephine Scivoli passed away in November 2019. We are grateful she allowed her story to be shared.
Josephine Scivoli's oncologist tells her she's an inspiration, a miracle.
Her husband, John, agrees. "She definitely has a lot of fight in her," he said.
Josephine was diagnosed with pancreatic cancer in January 2015 and underwent the Whipple procedure and multiple types of treatment. But cancer cells remained. The couple feared they had run out of options until their oncologist in Brooklyn, N.Y., told them about the Pancreatic Cancer Action Network (PanCAN).
"Josephine and I had been very confused about what to do next," John said. "But then we contacted PanCAN and learned about Know Your Tumor, and we jumped at the opportunity to participate. It was a great feeling to think there may be another treatment out there for Josephine."
Know Your Tumor is PanCAN's precision medicine service through which a patient's tumor is molecularly profiled to help determine the best treatment options.
Josephine's oncologist was onboard with her participation, saying, "Let's see what this tumor is made of."
The report Josephine received in December 2016, after a biopsy, revealed that her tumor had alterations suggesting it may respond to an immune checkpoint inhibitor drug. The report also listed a clinical trial using this type of treatment, and it was only 10 miles away from her home in Brooklyn.
In the fight against pancreatic cancer, clinical trials often provide the best treatment options, and they give patients early access to cutting-edge treatments that can lead to progress in research, improved treatment options and better outcomes. The Pancreatic Cancer Action Network strongly recommends 
clinical trials
at diagnosis and during every treatment decision.
Her oncologist was "surprised and happy" she was a candidate for the clinical trial drug, John said. Since enrolling in the trial, Josephine goes in for one chemotherapy session every other week – a half hour each time. Most recently, her doctor was pleased to see her tumor markers so low.
She is prepared to be on the drug for the rest of her life, as long as it continues to work. So far she's doing well. And with the help of pancreatic enzymes, she has gained 20 pounds.
"She looks fantastic," John said. "You wouldn't know she has cancer."
Josephine remembers the first symptoms indicating something was wrong: "I had a terrible itch for two weeks, and every day it got worse. Then I saw my skin change, and my eyes were yellowish."
Multiple scans and bloodwork eventually revealed a tumor on her pancreas.
The couple was quick to learn their options. "We like to get in front of things," John said. "We don't take a 'let's wait and see' approach. We advocate for ourselves. When we found PanCAN, it was a fantastic bridge to other options. We will continue to cross bridges one at a time and fight for what we want."
Today the Scivolis spend their days doing all the things they love – seeing family and friends, exercising, traveling. Last year they took a vacation to Italy, where Josephine's mother lives. They spend lots of time in Florida, too.
"People say I'm a strong person," Josephine said. "I just don't want to be debilitated, so I'll keep going as much as I can and for as long as I can. Every day is a blessing."
Speaking of blessings, the couple will soon celebrate the arrival of their first grandchild.
"I couldn't miss out on that!" she said.
Our Know Your Tumor precision medicine service gives eligible pancreatic cancer patients across the country access to molecular profiling, and we cover the cost of the coordination service that has the tissue sent to be tested and creates the report.
More than 1,000 patients have enrolled in Know Your Tumor to gain access to valuable molecular profiling. Contact PanCAN Patient Services today to learn more about Know Your Tumor and to determine if this service is right for you.