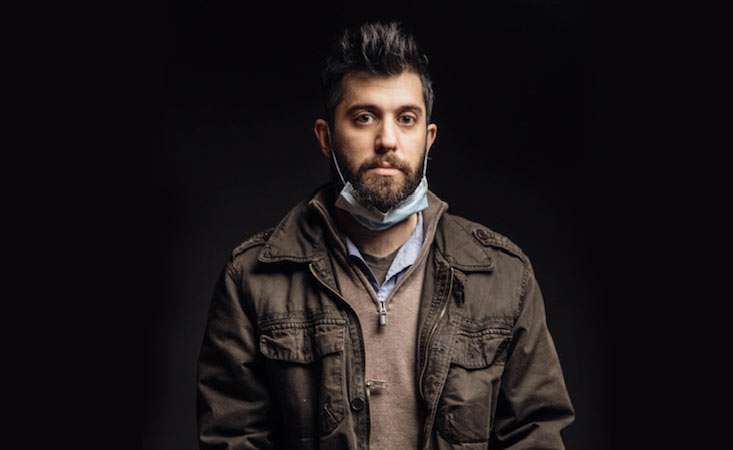 Photo credit: Paul Andrews
By Izze Bloom
Ever since we met in the eighth grade, Andrew Fletcher Edgerton has always perplexed me, both directly and indirectly. Known affectionately as Andy, he detested social norms, often defying them, and without fail, defending the underdog. He had George Clooney charisma and James Dean confidence. In many ways, Andy was the Robin Hood type – caring about people was his bottom line.
Little did I know as a teenager how our lives would later intertwine and how his will to live, his fight to stand up for others and his storytelling would completely undo what I thought was right and challenge me to be and do better.
At just 37, with two young children under 5 and the world at his fingertips, Andy was thrown a curveball unlike any other. He was diagnosed with stage IV pancreatic cancer. To many, such a diagnosis is a death sentence. For Andy, it simply meant that he would get to work – and get to work he did.
While going through chemo and clinical trials, Andy was adamant about learning everything about pancreatic cancer. He would then share that information and his story with strangers and loved ones alike. He also spent hours on the phone calling offices of politicians and creating ways to get the word out to the public.
Andy used his own story as not just a platform for education but as a catalyst for change. This included photos of his cancer journey, including losing his hair; unfiltered stories of treatment and hospitalizations; and no questions regarding his diagnosis off-limits. He wanted people to see the realness of cancer and the human strength it took to battle it.
Seven months before he died in 2017, Andy and I met for a face-to-face interview. He looked and acted healthy. He spoke endlessly about the two loves of his life – his kids – and his inspiration for waging hope in the face of the silent killer. He talked about the life he intended to lead in spite of pancreatic cancer and the plans he had to spread awareness. In that moment, I made a forever promise to Andy that I, too, would do whatever I could to help.
That night forever changed my life, because as I have written and talked about, Andy said, "You never know how hard you can fight until you have to." He was living those words day in and day out. So why wasn't I doing the same?
Still, in some ways, Andy mystifies me. More than anything, though, he continues to teach me to really live, to step out of my comfort zone and take risks, to be vulnerable and even to walk 20 miles to talk to people about pancreatic cancer.
Sixteen hours before his 40th birthday, Andy passed away, but his spirit continues to live on. Edgerton.Life Pancreatic Cancer Foundation was created to honor the forever promise he made to spotlight one of the deadliest forms of cancer in hope of sparing others. Oct. 23, Andy's birthday, will mark the third anniversary sadly without him, but also the annual gala to honor him.
In the path of life, you never know what curveballs might come your way, and "you never know how hard you can fight until you have to." Those words have stuck with me in the three years since Andy and I sat down for our interview. And so the fight in the name of Andy must march on and never stop.
With every fiber of his being, Andy fought pancreatic cancer until his last breath. Just like Andy, whatever life throws at each of us, let's not forget how hard each one of us can and must fight with a will to survive and thrive. Andy's lasting message is simply to endure and that hope prevails amidst adversity.
Andy's signature sign-off was love and light. With that in mind, let us all commit to a forever promise to continue to Wage Hope and Demand Better for all those and their loved ones impacted by this brutal disease.
Get involved
with the Pancreatic Cancer Action Network to make a difference in the fight against this disease.