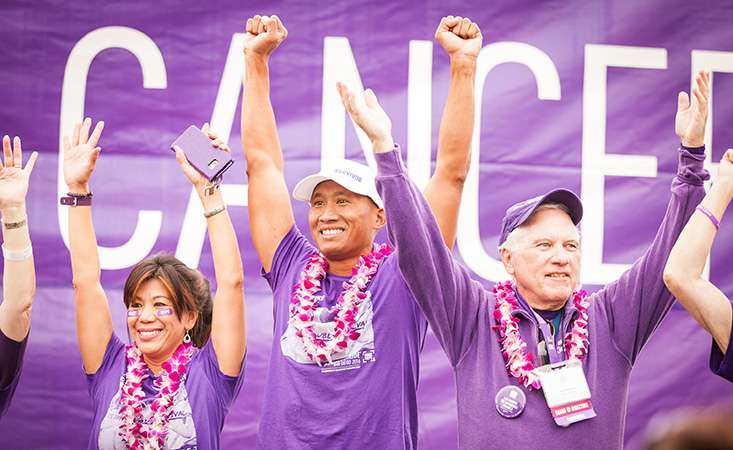 Sept. 7, 2021 is National Grateful Patient Day – created to show appreciation to caregivers and families, to honor patients and to recognize and thank those in the healthcare field.
Our PanCAN Patient Services team provides caring, compassionate support, and free disease and treatment information, as well as services and resources, to the pancreatic cancer community.
They often receive beautiful feedback from the patients and families they help. In their honor, we're sharing some of the feedback here.
"Without you, I don't know what I would have done. You were a shining star. I can't say enough about how you helped me." – Carole
To PanCAN supporters, thank you! You allow us to be shining stars every day for pancreatic cancer patients and their families.
"I wanted to thank you for your compassionate response when I called. You gave our family hope in the wake of my sister's diagnosis, and we won't forget it. Thank you again." -- Charlie
Charlie's PanCAN Patient Services Case Manager said, "It gives me comfort to realize the role Patient Services played in Charlie's family life. It showed how much each conversation matters – with caregivers like her, patients and entire families. We all stand together in this fight."
The following comments came from someone who had been recently diagnosed with pancreatic cancer. They told our Patient Services team they were nervous to reach out to others going through it because they were afraid of hearing – as they had, from their doctor – that there was no hope.
The case manager sent them free information specific to their situation and a few weeks later, the patient called us back and said:
"I feel more informed and confident about my next steps and I now have overwhelming sense of hope – for the first time. I no longer feel alone. I just wanted to express my thanks for all that you do for me and all of us going through pancreatic cancer."
The Patient Services case manager had this message for PanCAN donors: "This patient is now facing the future with hope and a community behind them. Thank you, PanCAN supporters."
PanCAN Patient Services can provide one-on-one information on clinical trials that patients may be eligible for, information about testing – both biomarker testing and genetic testing, available through PanCAN's Know Your Tumor® service – a list of pancreatic cancer specialists in the patient's area, as well as information on diet and nutrition, supportive care, support groups and more.
PanCAN Patient Services is also a resource for healthcare professionals, providing free educational materials for their patients, clinical trials resources and more.