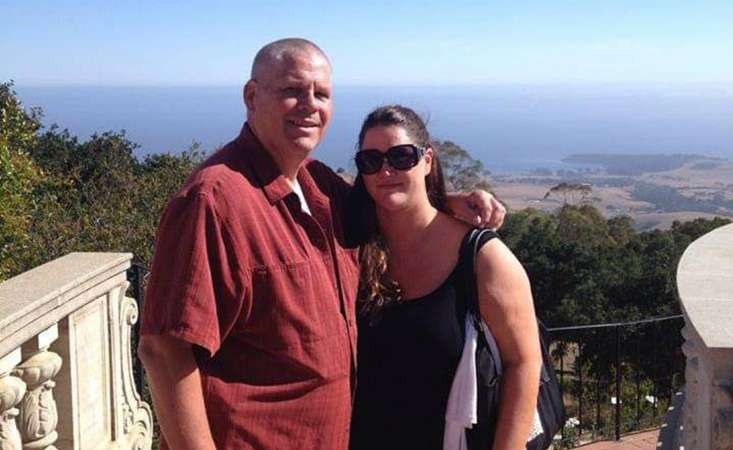 "Growing up with a deputy sheriff as a father, you don't get a lot of boys calling you," Liz Fragoza said. "But my dad was the funniest person and would talk to anyone."
That's who Liz's dad, known to everyone as Deputy Dave, was – an optimistic person who would go out of his way to help, throwing in a few dad jokes along the way.
Dave died from pancreatic cancer on December 12, 2020, just six short weeks after he was diagnosed.
Dave was no stranger to pancreatic cancer – he had coworkers and friends who had passed away from the disease – but, as Liz said, "You can't imagine what it's like until you go through it." Since her dad's death, Liz has vowed to do everything she can to prevent others going through what her family did.
"I can never let this happen to anyone else. I'll raise however much I can to help – there has to be an end of the tunnel where this turns into a treatable disease," Liz said. That's why Liz is participating in PanCAN PurpleStride on Saturday, April 30, 2022.
Liz had found PanCAN through a Google search when her dad was first diagnosed. When she got an email about PurpleStride, she knew it was a great opportunity to raise funds for research and bring awareness to the disease.
Liz, who lives near Reno, doesn't have an in-person PurpleStride event in her area, so she registered for PanCAN PurpleStride USA. With PanCAN PurpleStride USA, you can participate from wherever you are, and in any way you'd like.
Liz wants to spend the day doing things her dad would have done, like saying hello to strangers on the street or buying a serviceperson an unexpected meal. "Just paying it forward," Liz said. "It just takes one person to start something."
She'll be doing this all while wearing her official PanCAN PurpleStride 2022 T-shirt, spreading awareness about the cancer that took her dad.
PanCAN PurpleStride USA is for anyone, and if you're interested in joining, Liz has some advice for you. "Don't hesitate, just do it," Liz said. "Even if it's just asking your family and close friends to donate $5 each, that's more than PanCAN had before. Help fuel research and find new treatments to help prolong lives, even if it's stage IV."
Liz has already surpassed her personal fundraising goal, but that won't stop her from raising more.
"I'm going to continue raising money and posting on my social media. I won't stop until they tell me to. I'm just going to keep going."