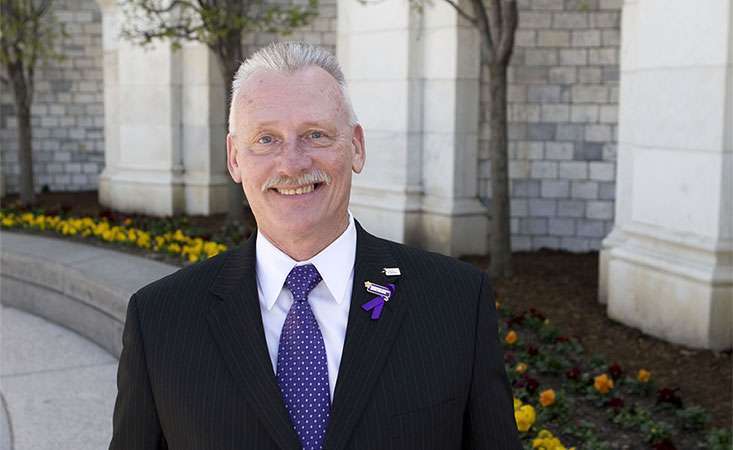 Even after Ralph Cheney's two bouts of pancreatitis (inflammation) in 2004, local doctors wanted to wait and re-scan in six months. He and his wife, Mariann, refused.
The couple went to a major center with expertise in pancreatic cancer. A gastroenterologist there told them he could not reach the tumor, but based on his experience, felt it was cancer. Ralph had a distal pancreatectomy and splenectomy without a diagnosis. Stage III ductal adenocarcinoma was confirmed a week later. His surgery was followed by six months of chemotherapy. That was 13 years ago.
"I am a firm believer that a second opinion is necessary for anyone who is diagnosed with a pancreatic disease," Ralph says. "It's important to get an accurate diagnosis and consult with specialists who are on the front lines of this disease every day."
He also believes in going to a high-volume center for surgery: "You're not dealing with a torn meniscus. This is a very complicated and uncommon surgery. It's important to get to a center that has experience with it."
Right after Ralph's diagnosis, Mariann called PanCAN. Ralph was matched with a survivor who provided the wisdom of his own experience and hope throughout Ralph's journey. "It is important to maintain an attitude of hope for a good outcome," Ralph said. "That's what the Survivor & Caregiver Network provided me. It also gave me someone I could identify with."
Support for the pancreatic cancer patient is critical to improve quality of life and overall well-being. Having a support system of caregivers, family, friends, healthcare professionals and a PanCAN Patient Services Case Manager is important to address and manage the needs of the patient.
PanCAN Patient Services has resources and information on any topic related to pancreatic cancer – from treatment to support groups to diet and nutrition.
Now, Ralph is a 13-year survivor. He and Mariann have had multiple roles as PanCAN volunteers and have been nationally recognized by the Surgeons of the Alimentary Tract for their work as advocates for others diagnosed with the disease. Ralph volunteers to speak to others through the Survivor & Caregiver Network. Through this and other efforts, he has connected with survivors across the country. What does he tell those diagnosed?
Don't wait to act. "You need to do something now," Ralph says. "This disease is cunning, baffling and powerful. It isn't going to stand still."
Get a second opinion and see a specialist.
Consider clinical trials at every treatment decision.
Get molecular profiling if possible.
Deal with symptoms and nutritional changes as they come up along the way.
Connect with others who have been there.
And Ralph believes caregivers are critical: "Mariann is the one who first reached out to PanCAN for information. I was too sick. An advocate for someone who can't advocate for themselves is important."
"I love PanCAN. I love the comprehensive approach. I tell everybody to call PanCAN Patient Services. They can answer virtually any question about this disease and connect patients and families to the resources they need."
Contact PanCAN Patient Services for free, in-depth pancreatic cancer information, including resources on diagnosis, treatment and support – like the Survivor & Caregiver Network.