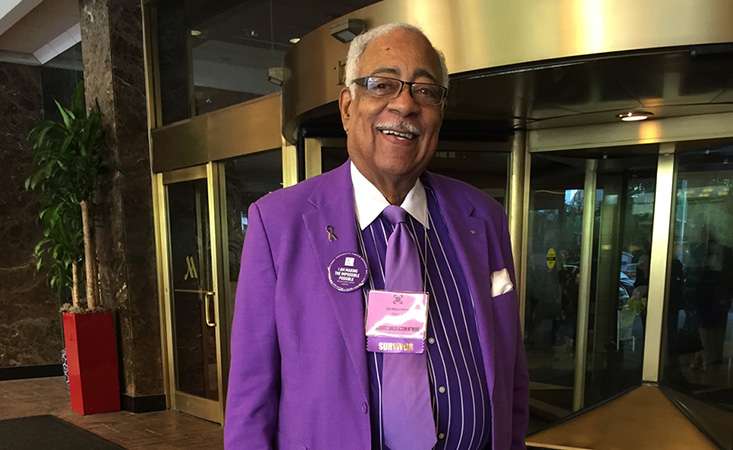 A tireless advocate for pancreatic cancer research who met with members of Congress every year for PanCAN Advocacy events in Washington D.C.
One of the first members of PanCAN's Survivor Council with a passion for increasing awareness in the Black community.
A 22-year pancreatic cancer survivor known for his "amazing television announcer voice" and storied career as a referee for college football.
Gil Marchman, a beloved member of the PanCAN family, was all this and more.
When he died on March 25, 2022, friends from his local PanCAN Affiliate in Chicago and others across the country joined together to honor his memory with an outpouring of remembrances and tributes. Together, their words represent just how much Gil meant to fellow survivors and families – he was a mentor, a leader, a friend to many.
His passion for raising awareness about pancreatic cancer even led him to skydiving. In 2019, at 84 years old, Gil met up with fellow survivors Roberta Luna and Susie Lemieux to "jump out of a perfectly good airplane" to celebrate his 20-year survivorship. (Read more in Roberta's remembrance below and in a story published in 2019.)
"If jumping out of a plane will help get the word out about this disease, that's what I'll do," said Gil at the time. "Pancreatic cancer is a tough disease, but developments are being made. More people need to know and talk about this disease. There is always hope."
Gil's commitment to give back to fellow survivors and families, his legacy of service to PanCAN, and his fierce determination to raise awareness and improve outcomes will not soon be forgotten.
Read more from members of the PanCAN family as they honor Gil's memory:
"I will always remember Gil's calm demeanor, enjoyable storytelling and his amazing announcer voice.
At one of our early Survivor Council meetings, we practiced reading some PanCAN information for the media and Gil's smooth/deep delivery always sounded like a television announcer.
Gil also was an excellent representative for the Black community and talked about ways we could bring better awareness and resources to help the community respond to pancreatic cancer.
He will definitely be missed!"
-- Dennis Cronin
"I met Gil at my first Advocacy Day and we exchanged emails a few times in my Survivor Council Alumni role. Such a gentleman!"
-- Steve Nelson
"I am deeply saddened to hear about the passing of Gil Marchman. I met Gil when I went to Advocacy Day for the first time. I was so happy to meet him and hear his story of being a survivor. At that time, I had not met an African American survivor. He was such an inspiration to me. He gave me hope.  We always made a point to take a picture together. He has touched many lives. I'm thankful for all he has done to bring awareness to pancreatic cancer.  Our world is a better place for all he has done." 💜💜💜
-- Sandra Mack
"'We' are very fortunate to still be here, and when one of 'us' leaves, it is especially sad. I never had the pleasure of meeting Gil, but his picture makes me smile. I'm sure he will be missed by many. RIP Gil Marchman."
-- John Walmsley
"Gil was a kind, generous man who wanted to make a difference for those affected by pancreatic cancer, especially in the Black community.
Gil loved football and was extremely proud of his accomplishments: "Big Ten Conference," first all African American officiating crew; inducted into three football officials Hall of Fame; referee in a Rose Bowl game.
Gil's passion was to bring awareness however possible, 'even if it means jumping out of a perfectly good airplane, that's what I'll do!' In 2019 to celebrate his 20-year survivorship Gil came from Chicago to jump with us.
When Gil was first diagnosed not much was known about pancreatic cancer or told to him. Gil shared that he always felt he got way more from the Survivor Council than he gave. He learned something new from each of us in every meeting. I learned something new from him as well -- everyone has a story and we need to look at every story with fresh eyes, listen to every story with fresh ears.
Gil was looking forward to returning this year to jump with me and celebrate my 20-year survivorship. He was with me on that day, just not exactly as planned.
I share in Gil's wish, 'I want to see a cure before I leave this world, so others can live without fear of pancreatic cancer.'"
-- Roberta Luna
"I remember talking with Gil about some of his accomplishments and know he was committed to learning more about pancreatic cancer and sharing that knowledge with the community.  I've missed having him on our calls and feel fortunate to have volunteered with him."
-- Diane Borrison
"Gil was special and had a wonderful sense of humor. He certainly was a powerful force in our mission to cure this disease, and I know we will miss him."
-- Ralph Cheney
It's PanCAN Action Week.
Act now
to send a powerful message to Congress: increase federal funding for pancreatic cancer research.