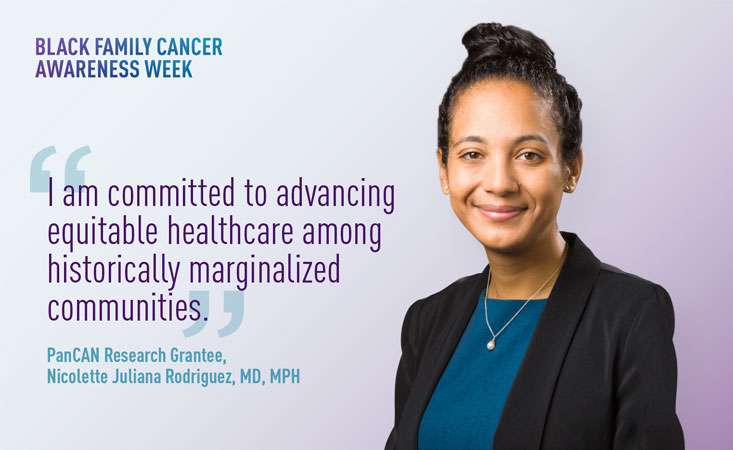 Editor's Note: Here, in the last story in our series for Black Family Cancer Awareness Week, we speak with PanCAN grantee Dr. Nicolette Juliana Rodriguez to learn about her work to improve pancreatic cancer outcomes for the Black and Latino/a/x communities. This story originally published during Hispanic Heritage Month.
Nicolette Juliana Rodriguez, MD, MPH, wants to improve pancreatic cancer outcomes in Black and Latino/a/x communities by increasing access to early detection and cancer prevention care.
"As a first-generation Latina, I am committed to advancing equitable healthcare among historically marginalized communities who have disproportionately high morbidity and mortality across the disease spectrum, including pancreatic cancer," said Dr. Rodriguez.
Through partnering with PanCAN, and thanks to the generous support of PanCAN donors, she's making it happen. Her work is helping to create a world in which all patients with pancreatic cancer thrive.
In 2021, Dr. Rodriguez served as project lead for a PanCAN research grant to get the REGENERATE study up and running. REGENERATE, which stands for Racial/ethnic Equity in GENetic Education, Risk Assessment and Testing, aims to assess perceptions of genetic education and testing among Black and Latino/a/x groups, with a goal to advance equitable access to genetics care.
As a first step, she has spent the last year leading focus groups among Black and Latino/a/x individuals to discuss a range of topics, including internet literacy, medical mistrust as well as facilitators and barriers to accessing important services like genetic testing and early cancer screening.
In July 2022, PanCAN announced funding for phases two and three of REGENERATE, as well as a Catalyst Grant to support Dr. Rodriguez's career advancement. In phase two, the team will test a web-based education system that disseminates information about pancreatic cancer genetic education, testing and early cancer screening. Phase three will assess usability by piloting the web-based education system, with a goal to launch a larger study and leverage remote healthcare services as a tool to improve healthcare equity.
"As the study progresses through phase one focus groups, we are excited that the information gained from conducting the focus groups will be used to design the research study and associated materials used in phases two and three, allowing us to impact genetic testing and surveillance in high-risk pancreatic cancer populations among historically marginalized communities," she said.
Watch our webinar
, "Hope and Progress: The Latest Developments in Pancreatic Cancer Research." Learn more from a panel of research and treatment experts, including Dr. Rodriguez, about how new scientific advances are making a difference for patients and families.
An Instructor of Medicine at Harvard Medical School, gastroenterologist at Brigham and Women's Hospital and an early career investigator in the Division of Cancer Genetics and Prevention at Dana-Farber Cancer Institute, Dr. Rodriguez has long been motivated to address the health inequities experienced by historically marginalized populations.
"I have witnessed the healthcare inequities that my family encountered when interfacing with the healthcare system," she said in a previously published blog post. "A big inspiration for me to become a physician was my desire to provide equitable care and be an agent of change."
Poorer outcomes in historically marginalized communities can be due to many factors, including geographic or financial barriers to cancer care as well as lower referral rates to specialists as compared to white populations.
Access to genetic education and testing is important, as about 5-10% of pancreatic cancer cases involve an inherited genetic risk – and this is true for individuals who didn't previously have a known family history of the disease.
Understanding any genetic risk factors opens opportunities for cancer monitoring or prevention strategies that can potentially identify pancreatic cancer in its earlier, more treatable stages.
The REGENERATE study is poised to help close this gap in cancer care for Black and Latino/a/x populations – through learning from community members themselves.
"Speaking directly to Black and Latino/a/x populations and learning how we can make it more feasible for these communities to get genetic education and testing on the individual, provider and system level will be critical to advancing equitable access to cancer prevention and care," she said.
Haga una donación
de cualquier tamaño hoy para acelerar el progreso para los pacientes. Todas las iniciativas científicas y clínicas de PanCAN, incluyendo el programa de servicios para el paciente, PanCAN Patient Services, son financiados por patrocinadores generosos.
Make a gift
of any size today and speed progress for patients. All of PanCAN's innovative scientific and clinical research initiatives, as well as its PanCAN Patient Services for patients, caregivers and loved ones, are funded by generous donors.