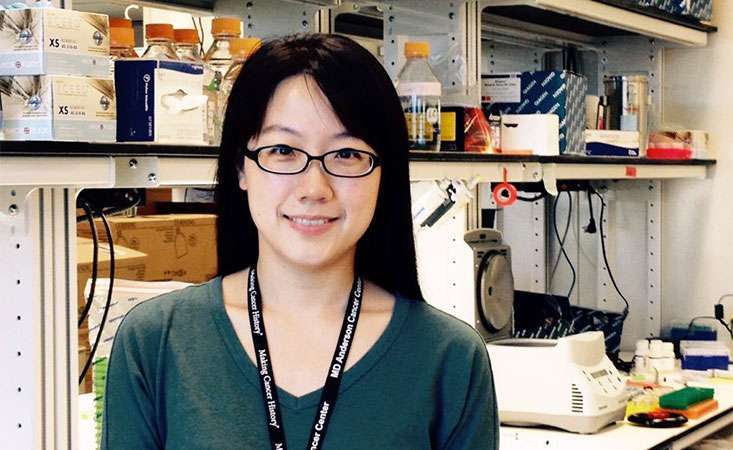 A study published in Nature today describes how mutant KRAS impacts pancreatic cancer cells' ability to gather nutrients – and reveals a potential new strategy to starve and kill the cancer cells.
The first author of the paper is Wantong Yao, MD, PhD, who was recently promoted to a tenure-track assistant professor in the department of translational molecular pathology at MD Anderson Cancer Center.
Much of the work was conducted when Yao was a postdoctoral fellow in the lab of Giulio Draetta, MD, PhD, who was appointed chief scientific officer at MD Anderson earlier this month.
Both Yao and Draetta were awarded research grants from the Pancreatic Cancer Action Network (PanCAN) through highly competitive selection processes. The project described in the Nature paper was made possible by Yao's Pathway to Leadership Grant, funded in memory of Carina Rogerson.
"I really appreciate the support from my PanCAN Pathway to Leadership Grant for allowing me to pursue this published study," Yao said. "Especially at this critical early stage of my career, this funding is instrumental to ensure my successful transition to an independent position and also to provide the scientific interaction from the PanCAN community that is crucial for my career development."
The research sought to gain a better understanding of how mutant KRAS, an alteration found in approximately 90 percent of pancreatic tumors, affects a process known as macropinocytosis. Through macropinocytosis, pancreatic cancer cells engulf surrounding fluid to search for nutrients and avoid starvation.
Previous studies, with seminal work conducted by PanCAN grantee Cosimo Commisso, PhD, have shown the connection between mutant KRAS and macropinocytosis. But, researchers didn't yet understand how mutant KRAS causes macropinocytosis.
A clue came from a rigorous study conducted by Yao, Draetta and team of all proteins that are found on the pancreatic cancer cell surface – sitting partly inside and partly outside the cell – alongside KRAS. The so-called "surfaceome" analysis showed that a protein called syndecan 1 (SDC1) was brought to the surface of pancreatic cancer cells only in the presence of mutant KRAS.
And, SDC1 was found on the cell surface of pancreatic cancer cells and precancerous cells, but not on healthy cells of the pancreas.
"The cell surface proteins carry out essential functions of the cancer cell membrane and are involved in the initiation of critical cell signaling cascades," Yao explained.
She continued, "Our study further provides strong evidence that mutant KRAS stimulates SDC1 trafficking to the pancreatic cancer cell surface, and SDC1 gathers on the cell surface to cause macropinocytosis."
Although mutant KRAS itself has notoriously been deemed "undruggable," meaning that previous efforts to directly target its activity have not been successful, SDC1 represents an attractive therapeutic target for treating patients with pancreatic cancer.
"Blocking SDC1 activity could potentially starve pancreatic cancer cells of necessary nutrients – leading to cell death," Yao said. "And, proteins that are exposed on the outside of the cell by sitting on its surface are particularly vulnerable to attack by treatment approaches."
In fact, a monoclonal antibody, which is an engineered immune protein, has been developed to target SDC1, and it's in early clinical trial testing in multiple myeloma patients. Efforts are underway to determine whether a similar treatment strategy will be tested in pancreatic cancer patients as well.
Yao and Draetta's research efforts were conducted in close collaboration with other scientists at MD Anderson, including Anirban Maitra, MBBS, grant recipient and member of PanCAN's Scientific and Medical Advisory Board, and Yao's husband, PanCAN grantee Haoqiang Ying, MD, PhD. Also instrumental to the work were Ronald DePinho, MD, and Samir Hanash, MD, PhD.
Yao expressed deep gratitude to PanCAN as well Irene and Craig Rogerson, who funded this project in loving memory of Craig's late wife, Carina.
"I want to express my special appreciation to Mr. Craig Rogerson and his family for their generous financial support of my research and my career path.
"I will continue to work tirelessly to live up to the trust they have given me and spend every day pursuing important research to benefit pancreatic cancer patients."
Your support
enables researchers like Drs. Yao and Draetta to discover vulnerabilities in pancreatic cancer cells to lead to more effective treatment options.