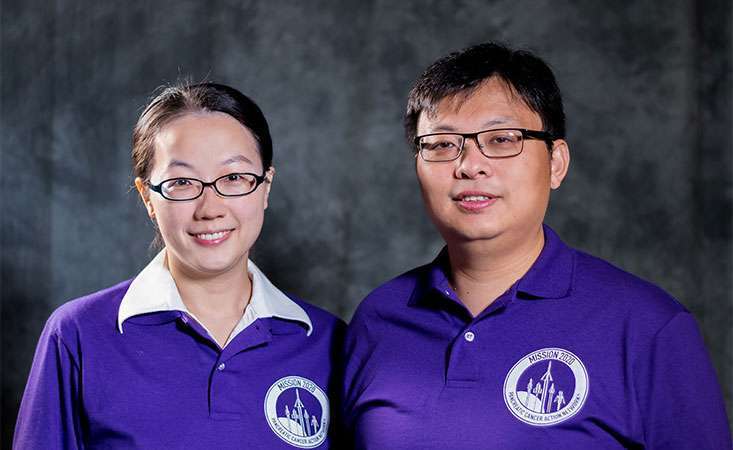 Both Wantong Yao, MD, PhD, and Haoqiang Ying, MD, PhD, underwent medical training in China. They both became deeply interested in cancer research, leading them to pursue PhD programs after completing their medical degrees.
But it wasn't until many years – and thousands of miles – later that their paths crossed, at MD Anderson Cancer Center in Houston.
"Wantong and I met when I was an instructor in Dr. Ron DePinho's lab, and she was a postdoctoral fellow with Dr. Giulio Draetta," Ying said. "The two labs share laboratory and office space – that's how we met each other and instantly felt a connection."
"We never really dated," Yao added. "The workplace was our dating place – he is a very charming person when he's working."
The two researchers were married in Houston in September 2015, and their daughter, Abigail Luxuan, was born in October 2016.
In the midst of all that excitement, Yao and Ying each received a prestigious research grant from the Pancreatic Cancer Action Network (PanCAN). They were selected to receive their awards through separate competitive, peer-review processes.
"I was four months pregnant with Abby when I accepted my award at the 2016 American Association for Cancer Research (AACR) Annual Meeting," Yao said. "And she was 6 months old when Haoqiang received his grant the following year."
Yao received a Pathway to Leadership Grant, funded in memory of Carina Rogerson, awarded to postdoctoral fellows to help support the transition to an independent faculty position.
"My research focus is on characterizing the regulation and function of proteins that are specifically localized to the surface of pancreatic cancer cells," she explained. "Since those proteins protrude outside the cell, they are readily accessible and can potentially serve as an early detection marker or a therapeutic target for pancreatic cancer."
Ying's grant is a Career Development Award, which supports junior independent investigators as they start up their own labs and commit to their research direction.
"I am working to understand how pancreatic cancers with different molecular backgrounds may rely on certain tumor-promoting strategies or specific metabolic programs," Ying said. "The goal is to identify key pathways that can be precisely targeted for various subtypes of the disease."
The pair was first introduced to PanCAN at the 2012 AACR Pancreatic Cancer Special Conference, for which the organization served as the lead supporter. Additionally, through conversations with MD Anderson colleagues and PanCAN Scientific and Medical Advisory Board members, Anirban Maitra, MBBS, and Jason Fleming, MD, Yao and Ying learned of other ways to become connected to the organization.
"We got involved in local PanCAN events, such as PurpleStride Houston," Ying said. "It was very inspiring! We've gotten to know many pancreatic cancer patients and survivors through PanCAN, and their stories make us realize how meaningful our research might be."
Yao also commented on the importance of PanCAN's "Community for Progress" that provides grantees career support and opportunities for collaboration: "PanCAN not only offers funding critical to move our research forward, but also provides a great community for us to connect with fellow scientists."
These days, the couple's labs are on separate campuses at MD Anderson. But they do go to seminars and research meetings together. As for their home life, they have their shared commute to work to chat about science. They sometimes talk about science at home, too, but they mostly devote that time to Abby. Ying said, "She is the happiest girl and has become extremely active. She is an angel of our lives!"
In honor of Valentine's Day, the couple was asked what they love and respect the most about each other.
Ying responded, "It's really hard for me to describe what I love most about Wantong. I just love everything about her – as a wife, a mother, a fellow scientist. And what I respect most about her is her authenticity and courageousness."
As for Yao, she shared, "We know and love each other because of pancreatic cancer research. We are going after our mutual dream of curing pancreatic cancer and living our lives together.
"I feel like I am the luckiest person in the world because of him."
We need your help to continue to fund passionate and brilliant scientists like Drs. Yao and Ying – please
donate today
.