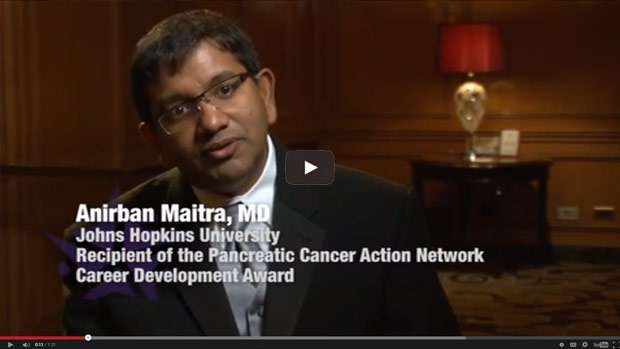 My interest in pancreatic cancer was sparked by the aggressiveness of the disease and the urgency of finding early detection and therapeutic strategies. Since receiving a Pancreatic Cancer Action Network Career Development Award in 2004, I have devoted my career to pancreatic cancer research. I am currently an Associate Professor of Pathology and Oncology at the Sol Goldman Pancreatic Cancer Research Center at Johns Hopkins University School of Medicine and my laboratory is 100% dedicated to pancreatic cancer research. The focus on my research is the identification of rational therapies for pancreatic cancer.
Together with hundreds of other supporters from across the country, I will be participating in the Fourth Annual Pancreatic Cancer Advocacy Day on June 21-22, 2010 in Washington, DC. I look forward to meeting with key Congressional members and their staff to urge them to make pancreatic cancer a higher national priority. As a pancreatic cancer researcher, I will the opportunity to speak first-hand about the current state of the science, the urgent need for increased federal research dollars, and how additional funds would be used to expedite scientific and medical breakthroughs.
Editor's note: After receiving his medical degree from the All India Institute of Medical Sciences at New Delhi, India in 1996, Dr. Maitra completed a residency in anatomic pathology at the University of Texas Southwestern Medical Center in Dallas and a fellowship in pediatric pathology at Dallas Children's Medical Center. He arrived at Johns Hopkins in 2001 for a combined clinical/research fellowship in gastrointestinal/liver pathology, and then joined the faculty. Currently, he is the Editor-in-chief of Current Molecular Medicine, and has received numerous awards for his research studies. Dr. Maitra is part of the Pancreatic Cancer Dream Team that received an $18 million grant from Stand Up to Cancer in 2009.
We are proud to include Dr. Maitra in our family and hope you will join him at 2010 Advocacy Day.
To learn more about Dr. Maitra's 2004 Pancreatic Cancer Action Network Career Development Award, click here.