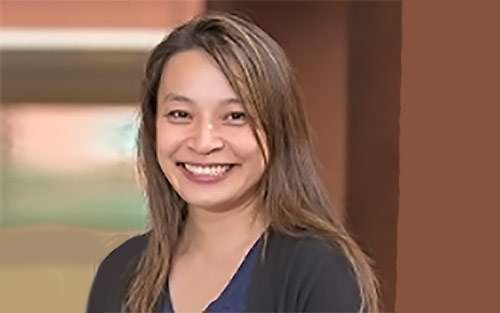 Last week, we shared the exciting news that an immunotherapy agent, Keytruda, was the first drug approved by the FDA for the treatment of any solid tumor type that has a certain molecular alteration, known as high microsatellite instability (MSI).
Principal investigator of the Pancreatic Cancer Action Network's $1 million Fredman Family Foundation – Research Acceleration Network Grant in 2014, Dung Le, MD, spearheaded efforts to examine Keytruda's effectiveness in pancreatic cancer patients with high MSI. In fact, Le and her colleagues' roles in the Keytruda clinical trials were highlighted in this wonderful Washington Post article.
Le is an associate professor of oncology at the Johns Hopkins University School of Medicine and is a member of the Johns Hopkins Kimmel Cancer Center.

Below, we chat with Le about Keytruda, MSI and the immunotherapy clinical trial that our organization is funding. 
What made you decide to go into medicine and oncology?
Medicine is one of the few professions in which you can apply constantly changing science to improve the wellbeing of others – in a hands-on way. Oncology is a specialty that epitomizes this aspect of medicine.
Pancreatic cancer is one of the most difficult diseases to treat, and I've always been driven by the need to make a difference for these patients. I have also found a majority of patients to be extremely gracious – and grateful – which makes a huge difference when working in this field.
Why were you drawn to immunotherapy?
We have made advances in pancreatic cancer treatment options, but they have all been chemotherapy-based. While I do believe in chemotherapy, alternative avenues need to be explored to move the field forward.
Immunotherapy involves activating the patient's own immune system to recognize and attack their tumor. T-cells are a critical immune cell type to facilitate this process, and they have the capacity to kill cells that have been infected by a virus or bacteria, as well as tumor cells. But research has shown that T-cells are not able to physically get near pancreatic tumors.
There is reason to believe that there are T-cells that recognize pancreatic cancer cells, but we still have to figure out how to get them into the tumor and get them to kill cancer cells before they are turned off.  With new immunotherapy agents, there is hope.
Tell us about Keytruda – how does it work? Who does it work for?
Keytruda inhibits a molecule called programmed death-1 (PD-1), which turns active T-cells off. When Keytruda binds PD-1, it takes the brakes off the T-cells and allows them to destroy tumors.
Keytruda works for some patients with lung cancer, melanoma, head and neck cancer, Hodgkin's lymphoma, bladder cancer and other cancer types – including pancreatic – with high microsatellite instability (MSI) or deficiencies in their ability to repair DNA damage.
How frequent is MSI-high status in cancer and, particularly, in pancreatic cancer?
MSI is found in 4 percent of all advanced solid tumor patients and in 1 to 3 percent of patients with pancreatic cancer.
Editor's note: The Pancreatic Cancer Action Network's precision medicine service, Know Your Tumor®, assists eligible pancreatic cancer patients in undergoing molecular profiling that will determine their MSI status. Contact a PanCAN Patient Services Case Manager to learn more.
Can you tell us about the immunotherapy strategy that is being funded by your Research Acceleration Network (RAN) grant?
While we are very excited for the progress being made in patients with MSI-high pancreatic cancer, immunotherapy still does not apply to the other 97 percent of our patients. The trial being funded by the PanCAN RAN grant is testing a combination of immunotherapy agents that we hope will be more widely effective.
The study is complete, and the final data will be available in the fall of 2017. We are also already working on two follow-up studies that will add additional agents to enhance the immune attack on the cancer cells.
PanCAN funding is highly instrumental – it allows investigators like me to continue to test novel ideas with scientific rationale and raise the bar for our patients with pancreatic cancer.
For questions about Keytruda, immunotherapy or other treatment options for pancreatic cancer patients, please
contact Patient Central
.