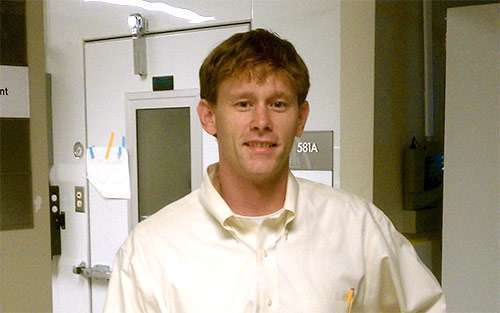 Changes that cause a normal cell to become cancerous are often genetic in nature – mutations or altered expression of certain genes can drive uncontrolled growth that is characteristic of cancer. Based on this observation, researchers had assumed that the changes necessary to cause a cancer cell to spread elsewhere in the body, or metastasize, would be genetic as well.
But years of research have found very few, if any, genetic differences that explain how cancer cells leave the primary tumor and metastasize to other organs.
More than half of all pancreatic cancer cases are diagnosed after the disease has metastasized. So, what signals a cell to leave the pancreas and settle elsewhere in the body?
"Rather than genetic changes, we hypothesized that something called epigenetic changes may influence a cell's proclivity to metastasize," said Oliver McDonald, MD, PhD, primary author of an important paper published in Nature Genetics earlier this week and Pancreatic Cancer Action Network (PanCAN) research grant recipient. "Epigenetics can be thought of as the 'software' that operates the cancer DNA 'hardware' and bestows lethal traits to the cancer cells."
Whereas mutations are alterations to the DNA code itself, epigenetic changes represent chemical modifications that are added to or removed from the DNA strands that affect the timing and intensity of gene expression – and that can make cells behave abnormally.
Indeed, McDonald and his colleagues found dramatic differences in epigenetic features of cancer cells that were localized within the pancreas as compared to those that metastasized to places like the liver or lung of the patient.
The research team was surprised to find that metabolism, or the cells' ability to consume and break down nutrients for energy, influenced epigenetic properties. Importantly, the specific metabolic strategy utilized by the metastatic cancer cells could be experimentally blocked – and that inhibition reset the epigenetic changes in the cells and impeded their ability to form new tumors.
"The next step is to develop therapeutic inhibitors of this process," McDonald said. "We are working closely with medicinal chemists and hope to develop compounds that we can test in animal models and, ultimately, in human clinical trials."
McDonald received a $600,000 Pathway to Leadership Grant from us in 2012, generously funded by the Daniel and Janet Mordecai Foundation. At the time, he was a postdoctoral and clinical fellow in the Johns Hopkins University laboratory of Christine Iacobuzio-Donahue, MD, PhD, also a grantee and a member of our Scientific & Medical Advisory Board. McDonald has since been promoted to assistant professor of pathology, microbiology and immunology at Vanderbilt University School of Medicine, and Iacobuzio-Donahue is now at Memorial Sloan Kettering Cancer Center.
Iacobuzio-Donahue is co-corresponding author of the Nature Genetics paper. Another author is PanCAN grantee Kathryn Wellen, PhD, whom McDonald met and forged a collaboration with at our Annual Scientific Meeting a few years ago.
McDonald's PanCAN grant is cited as instrumental for the project described in the paper, and he let us know that it's been critical for his career success as well.
"My Pathway to Leadership award made it possible for me to begin a laboratory-based research career in the midst of record low federal funding rates, for which I will always be grateful to PanCAN and the Mordecai Foundation," McDonald stated. "In fact, it is very unlikely that I would have studied pancreatic cancer at all without this award."