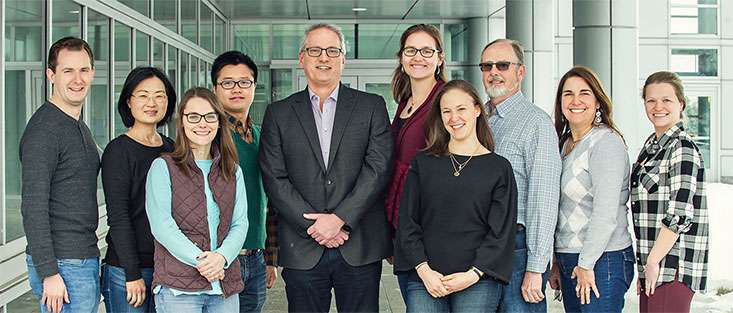 Editor's note: Our "It Starts with Someone" series chronicles all kinds of Pancreatic Cancer Action Network (PanCAN) supporters – volunteers, survivors, caregivers, advocates, researchers – and describes the "someone" who has impacted their efforts in the fight against pancreatic cancer.
Today we are profiling Scientific and Medical Advisory Board (SMAB) member Howard Crawford, PhD, who underwent his postdoctoral research training in the Vanderbilt University laboratory of Lynn Matrisian, PhD, MBA, PanCAN's very own chief science officer.
"I grew up in the high-tech town of Huntsville, Alabama," Crawford began. "Many of my friends' parents worked for companies like NASA and IBM. I grew up around a lot of scientists, and lots of kids were interested in science, math and engineering."
Like his peers, science piqued Crawford's curiosity. He was drawn to comic books and loved the fact that many of the hero characters were, in fact, scientists. But Crawford's scientific excitement was slightly different from his friends'.
"When I went off to college at Cornell, I started out as a physics major," recalled Crawford, "but I quickly realized that I didn't like math all that much."
He continued, "I had experienced a lot of cancer in my family – including losing my brother while I was in college. At Cornell, biological sciences were a much bigger focus than in my hometown. It was a no-brainer for me to switch to cancer biology."
Crawford's doctoral studies took him to UT Southwestern Medical Center, where he settled into an immunology lab. He commented, "There wasn't a lot of cancer research there at the time. But my eyes were always on connecting my research focus to cancer."
Crawford became interested in a class of proteins called matrix metalloproteinases (MMPs) that break down rigid structural components that surround cells in the body. He wondered whether MMPs could play a role in allowing cancer cells to metastasize, or spread outside the organ where they initially developed.
A perusal of the literature quickly revealed Matrisian as a leader in the field of MMP biology in breast cancer research. The opportunity to work in Matrisian's Vanderbilt lab for his postdoctoral training allowed Crawford to realize his goal of becoming a cancer biologist.
"As a mentor, Lynn allowed us to pursue science the way it's meant to be pursued," Crawford said. "She had an idea of how she wanted the research direction to go, but she was very willing to hear others' good ideas – and she gave us the time, space and resources to follow those ideas."
Prior to joining PanCAN as the organization's first chief science officer, Matrisian spent 25 years running a cancer research lab focused on how MMPs and similar proteins influence cancer metastasis. One of her favorite aspects of her role was mentoring and guiding early-career scientists to think critically and pursue their professional goals.
"Howard was a terrific postdoc – bright, hard-working and very motivated," Matrisian recalled. "He opened up new areas of investigation in the lab, developed great collaborations with other labs and ended up leading some of the important work we accomplished."
During Crawford's tenure as a postdoc, he listened to a talk given by Steven Leach, MD. At the time, Leach was a professor at Vanderbilt. Now, he is the director of the Dartmouth Norris Cotton Cancer Center and immediate past chair of PanCAN's SMAB.
"Steve's presentation inspired me to apply my knowledge of MMPs to pancreatic cancer research," Crawford said. "We struck up a collaboration, and I decided that pancreatic cancer would be my focus when I moved on to lead an independent lab."
Matrisian was supportive: "I encouraged Howard to study pancreatic cancer – it was an understudied area, and the work we were doing in other cancer types was highly relevant to pancreatic cancer."
Now, Crawford is a professor of molecular and integrative physiology at the University of Michigan. About running his own lab, he said, "You have to let things happen the way science is telling you. It takes a lot of work to get the story right. When someone sees my name on a paper, I want them to know that it's solid and believable – stringent and accurate."
As a mentor now himself, his focus is straightforward: "My goals for my trainees are their goals for themselves. I want to mentor people to follow their own path."
Christine Ardito-Abraham, PhD, oncology regional medical liaison for Amgen and a PanCAN volunteer, can vouch for Crawford's mentorship style.
"Howard had a great reputation with the students," said Ardito-Abraham, who chose to undertake her PhD training in his lab. "Howard was a 'tough' principal investigator, but for all the right reasons. He expected me to think critically about my work and my project, so he asked me the hard questions and expected me to deliver."
She continued: "He has a huge heart and was 'tough' because he cared, both about his students and the patients we were trying to help."
Today, Crawford and Matrisian are both pleased to find themselves working together again, through PanCAN. "I've loved PanCAN from day one because of the interaction with patients," said Crawford, who regularly participates in PurpleStride Detroit, the walk to end pancreatic cancer, and has attended the organization's Advocacy Day. "Being part of the SMAB means being on a team – and it allows me to have some impact beyond my own science."
Support PanCAN's efforts to advance research, support patients and create hope for everyone affected by pancreatic cancer – donate today!