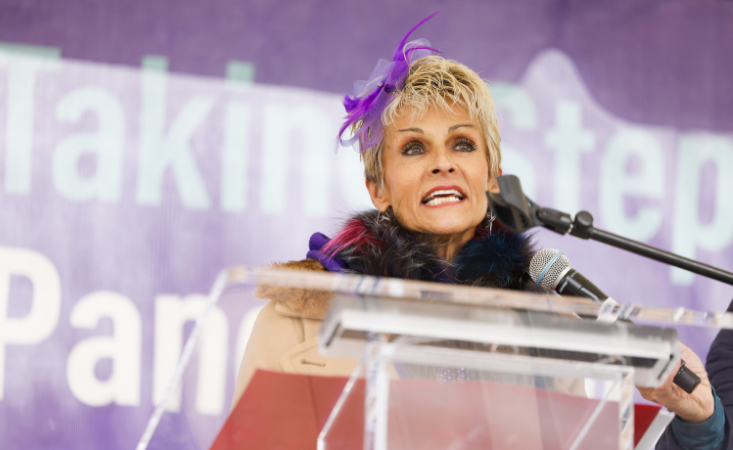 Editor's note: Our series focused on pancreatic cancer survivors leading into PanCAN Action Week (starting June 13!) continues, featuring a moving speech from Vicky Waterman given at PurpleStride Chicago on April 30, 2022.
We hope you are as inspired by Vicky, and all pancreatic cancer survivors, as we are. To show your support, RSVP for "Voices in Action," the free, virtual kickoff to PanCAN Action Week and advocate for all pancreatic cancer survivors by urging Congress to increase federal research funding for the disease.
Here, Vicky's PurpleStride speech:
I am dedicating this to David, my husband…
Being deeply in love with someone gives you STRENGTH… while loving someone deeply gives you COURAGE. (Lao Tzu)
Vicky and family at PanCAN PurpleStride Chicago on April 30, 2022.
Thank you so much for the honor to speak at PanCAN PurpleStride Chicago.
I was diagnosed with pancreatic cancer on May 21 of last year, and it hit me like a tsunami.
Stage 4 terminal metastatic pancreatic cancer.
Impossible!
Me… a fitness entrepreneur…never sick a day in my life…I eat right, I am not overweight, I don't smoke…I don't drink (much)…and I exercise every day of my life.
There must be some mistake?
Two days prior, I was preparing to sign a purchase agreement with my business partner to buy a building and set the stage for an entirely new fitness concept. But I was in so much pain that day that I could not even stand. So my husband took me to the ER.
The week before, my gastroenterologist had said there was nothing more he could do…for ME…OR the PAIN!
An ER X-ray later…we discovered that there was something on my pancreas and liver.
After four months of extreme pain – where doctors could not determine what was wrong with me…CT scans, MRIs, colonoscopy, endoscopy…and the fact that I had exhibited all the "classic symptoms" -- severe pain on the left side of my abdomen and lowehttps://www.pancan.orgr back, I had already lost 30 pounds…
I asked my gastroenterologist directly:
"Are you certain I don't have pancreatic cancer?"
He looked at me and said, "Your eyes and skin aren't yellow…so NO you don't…"
Well…YES…I DID.
I had discovered a lump in my neck that was biopsied and a CT scan confirmed that the cancer was pancreatic and it had spread to my liver…and my lungs…and my lymph nodes…and my thoracic spine…and my right hip.
The following week I had a port installed and started chemo that very same day.
With the hard work of PanCAN and people united in a cause to fund research, this insidious disease can be treated through early detection.
PanCAN research is increasing survival rates and giving us the support we so desperately need. PanCAN provides resources to treat 'us' as a 'whole' person.
My cancer is rather uncommon – in 2009, I discovered that I had the BRCA 1 gene mutation and I elected to have a double mastectomy and oophorectomy.
In 2010 I opened the first fitness boutique in Geneva, Ill., offering group exercise in Barre, TRX, Pilates and Dance. More than "exercise," my studio was a platform for cancer awareness…for body awareness.
I literally saved many women's lives with a message of early detection, genetic testing, and proactive health.
My studio's "swan song" was what I called the "Stiletto Spring Benefit for Living Well" in honor of my mom, who is now a 20-plus year survivor of stage 4 ovarian cancer.
I have always been an 'Activist' for fitness and exercise…being proactive IS my DNA!
Fast forward to 2021, the BRCA 1 gene was also in part responsible for my pancreatic cancer.
I hope to make people aware of this genetic marker…it's not just breast and ovarian.
PanCAN has an amazing support system and one of its gifts to me is a heightened and renewed sense of purpose and hope.
I should not be here…I was told I had three to six months to live.
PanCAN funds research in finding a cure for the next generation AND supporting this organization has given me real purpose. Having purpose feeds the soul.
I have always been driven…as an entrepreneur/athlete; I treated my illness in the same manner as all my business endeavors…with discipline, dedication and consistency.
I knew my workout regimen would be a big part of my success in standing here today -- BEING ALIVE!
I continue to work out during my darkest days because I truly believe that exercise and movement IS medicine.
Through it all and as a realist, I was at peace with dying, but I'm also a fighter.
And you DO need to fight this disease.
In closing, my message is one of love and support to PanCAN and the power in purpose it has
given me and to the power of what my husband David calls "actionable virtue." Everyone here today has it!
The strength this network provides… my personal belief in God… in family and in friends.
With these virtues in place, miracles will happen.
I love you all. Thank you!
We're bringing Washington D.C., to you! Join us for Voices in Action, the virtual kickoff to PanCAN Action Week 2022, taking place on Monday, June 13, at 2 p.m. ET / 11 a.m. PT.
RSVP today
.