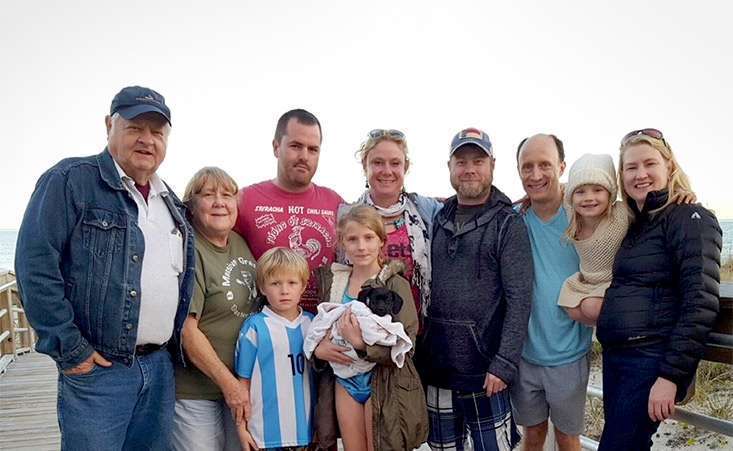 In September 2015, Earl Groce returned home to North Carolina after driving 5,500 miles cross-country for his first trip to the Burning Man festival in Nevada. Concerned about a herniated belly button, he went to see his doctor. Groce assumed the long, hard drive in his camper without power steering had put too much stress on his body. The doctor came back with a diagnosis that was the furthest thing from his mind – stage IV pancreatic cancer, with metastases in his liver, lungs and fatty tissue.
Earl asked to call in his daughter, a physician. Reflecting on that conversation, she says, "When you're hoping for the diagnosis to be melanoma, you know it's a very bad day." Having treated pancreatic cancer patients herself, she understood they would have to act fast to make treatment decisions.
His daughter immediately called colleagues to ask for referrals and flew to be with her father in North Carolina. Reunited at the airport, the family cried and hugged before they left to start the process of setting a treatment plan. They chose an expert medical team at Wake Forest Baptist Medical Center that his daughter describes as "an amazing team of doctors and nurses who were always enthusiastic, upbeat, caring and hopeful."
While discussing treatment options, Groce's doctor suggested a clinical trial. Groce says, "I saw it as an opportunity to get the best drugs hospitals could offer, plus more." His daughter adds, "We know that clinical trials offer the newest, and often best, options for treatment." Groce enrolled in a phase I clinical trial for CPI-613, a targeted therapy aimed at cancer cell metabolism, receiving the test drug in addition to FOLFIRINOX, a combination of chemotherapeutic agents.
After four rounds of the regimen, Groce's tumors shrank by as much as 30 percent. One year after diagnosis, he was feeling great and his CA19-9 levels had come down from around 10,000 to below normal range.
Groce says, "Even though it can be hard, I remained hopeful, positive and optimistic throughout the treatment." To help maintain his positive attitude, Groce and his family made a point to spend extra time together, which has brought them even closer.
Early in his treatment, he took a trip to Disneyland with his grandchildren. Since then, he and his wife, Juanita, have visited family in Canada seven times and gone on many family trips across the United States, including a camping trip in Yellowstone National Park. Groce and his wife have also made the cross-country road trip to the Burning Man festival again – twice.
Reflecting on his family, Groce says, "They have been so supportive – especially my wife of 49 years, Juanita. I recently told her she may have to put up with me for another 15 years! It is an understatement to say I'm a proud husband, father and grandpa."
Groce is currently receiving treatments with CT and MRI scans after every four rounds. His scans have been clear for months, and his CA19-9 levels remain below normal. He still feels good, though his many adventures cause him to be tired sometimes. He says, "I'm extremely active for a 70-year-old pancreatic cancer patient, and I don't plan to slow down because I'm on borrowed time."
Groce wants to deliver a message of hope that pancreatic cancer is not a death sentence. He encourages others facing the disease to find an expert healthcare team, actively seek out clinical trials and try to maintain a positive attitude. His daughter, speaking as both a family member and a physician, echoes this advice, saying, "When you're choosing a healthcare team, you must consider their experience and treatment philosophy – it will impact your entire experience. Seek out the type of team you want and always consider clinical trials because they are very important treatment options."
Contact PanCAN Patient Services for a list of pancreatic cancer experts in your area, a personalized clinical trials search, comprehensive disease information or answers to other questions you may have.