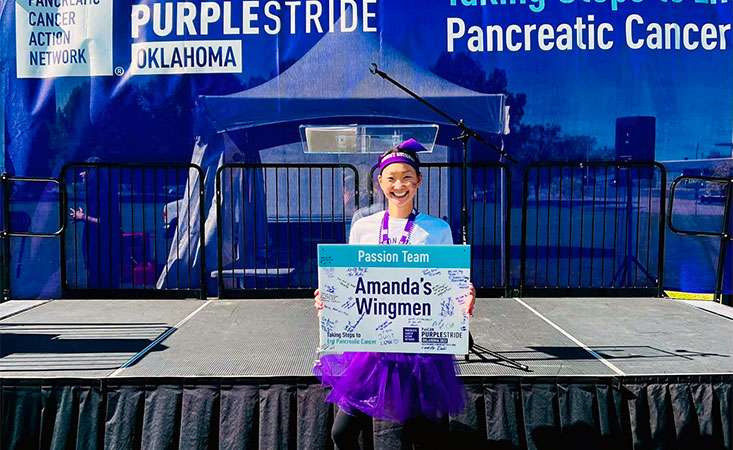 Editor's Note: We are saddened at the passing of Amanda Winge on December 2, 2022. PanCAN sends deepest sympathies and heartfelt condolences to her friends and family.
On December 9, 2021, Amanda Winge left work to go to the emergency room because her colleagues were concerned that she may have appendicitis. A sharp pain on her right side had her doubled over in pain.
Her husband picked her up to bring her to the hospital. Instead of appendicitis, tests revealed a large mass on her pancreas. The ER physician referred her to an oncologist. She was just 35 years old and otherwise healthy, so the doctor cautioned against worrying too much.
"The doctor said, 'it could be other things; you're young,'" Amanda said. "Anytime you hear 'large mass,' it's just scary."
A few days later when they saw the oncologist, Amanda and her husband received difficult news. They learned that she had a malignant tumor on the tail of her pancreas and that the cancer had spread to her liver, lungs and lymph nodes.
"Our whole world came crashing down in three or four sentences," Amanda said.
Amanda had lost weight over the previous few months and had felt tired and a little rundown, but nothing that she thought would have pointed to a diagnosis of stage IV pancreatic cancer.
In the midst of the confusion and flurry of emotions, Amanda found PanCAN.
"Our family had no information," she said. "I came across PanCAN's website, which seemed like a treasure trove of not only information, but different resources that I could use."
She remembers being comforted by the sense of community she felt browsing through the stories of survivors, researchers and donors, so she filled out the online form for more information.
Almost immediately, a PanCAN Patient Services Case Manager contacted her.
"Someone called asking if they could help me," she said. "At the time I didn't know what help I needed. I just knew I was confused and scared and had no idea what to expect."
That phone call anchored her at a moment when she needed reassurance. She received free booklets in the mail with information related to a pancreatic cancer diagnosis as well as diet and nutrition and other topics.
That initial contact also led her to PanCAN PurpleStride. When she saw the event would be taking place in April, she knew she had to create a team for PurpleStride Oklahoma. "Amanda's Wingmen" quickly gained supporters. The team raised more than $17,000, blowing past its $10,000 goal.
The event was a moving experience for Amanda and her family.
"It was honestly one of the greatest days of my life," Amanda said. "I had friends from high school come in. I had friends from college come in. They flew in from Canada, California, New York, Colorado, Missouri. We had coworkers there. We had family come in."
She also met other pancreatic cancer survivors, including a seven-year survivor who gave her hope and reassurance.
"It was nice to meet him and to know that there is a community here in Oklahoma," she said. "I felt so loved and supported. It meant so much to me that my family and friends took the time and effort to fundraise on my behalf because it showed me how much I meant to them and how much they also wanted to make an impact."
A resident of Oklahoma City, Amanda feels grateful that she found an oncologist at Stephenson Cancer Center that is not only kind and compassionate, but is an advocate for her and is proactive about pursuing treatment options.
After a short stint in a clinical trial and some FOLFIRINOX chemotherapy treatments, she's now on a different chemotherapy treatment, ABRAXANE®. She is feeling well enough to return to work at the Oklahoma State Regents for Higher Education, the state agency that oversees the public colleges and universities in Oklahoma.
As her treatment progresses, she's focused on living in the present, enjoying time with her eight-year-old son and husband and taking everything a day at a time. A family vacation in June provided some wonderful time together.
"Anytime we do family outings, we put our son and his needs first," she said. "We make sure we have good, happy, memorable moments."
To others facing a pancreatic cancer diagnosis, Amanda emphasizes the importance of "a really good support system."
"I mean that in terms of not just your medical team, but your family, your friends," she said.  "Find a group of people that you can bounce ideas off of ­– people you can talk to when things are not going well."
Amanda has also been regularly talking with a longtime friend who is a palliative care doctor and she has a palliative doctor she sees through the cancer center. Amanda recommends adding this type of healthcare professional to a care team – regardless of the stage of your cancer or where you are in the treatment process. Palliative care focuses on comfort, quality of life and a patient's total well-being during and after cancer-fighting treatment.
"I assumed palliative care was hospice," she said. "That's not the case at all. They ask about what symptoms I have. We look at my medications if we need to, they ask about how I'm feeling mentally. And we talk about things like legacy projects, things to do with my son. What are my concerns? What are my fears?"
Above all, she said, "always have some hope."
"I know that's hard, especially when you're freshly diagnosed," she said. "But remember that the things that you read online, that's not necessarily you. You're not a statistic."