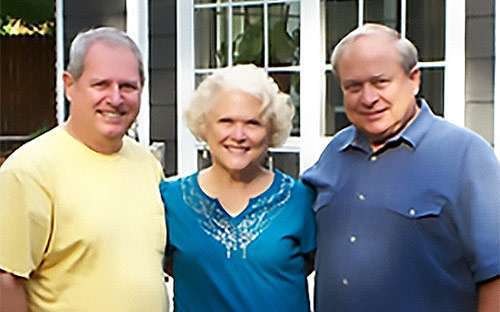 Editor's note: The following story from pancreatic cancer survivor Peter Penni recounts how PurpleStride gave him hope in the face of a diagnosis.
---
In August 2015, Peter Penni was diagnosed with stage III, pancreatic adenocarcinoma. After going through treatment, Peter went through a Whipple procedure and irreversible electroporation (IRE, a procedure which uses short, repetitive, non-thermal high-energy pulses of electricity to destroy cancer cells) in February 2017.
Following the procedure and one more round of chemo, Peter is feeling strong physically and emotionally, two years after his diagnosis.
Because of what he went through, he knew he had to raise awareness for this disease.
Peter grew up in a typical Italian family in Boston, but lost both parents to cancer, as well as a young cousin. The Penni family has supported a cancer walk in Salem, Mass., for over 20 years and each year the whole family (made up of 60 members) flies to Boston to be a part of the Penni Family Team.
"Cancer has affected so much of the family, so there was never any hesitation to do what we could to help others," Peter said.
Peter and his wife, Chris, live near Charlotte, N.C. He is a huge sports fan, which is why a conflict arose when he had tickets to a big game on the same date as PurpleStride Charlotte 2017. But Peter's sister in Tulsa, who was willing to fly to Charlotte prior to learning about the game, provided him with an answer that was mutually beneficial.
"It was a simple solution," Peter said. "I'd fly to Tulsa and walk there along with my sister, Sue, and brother, Dick, who flew in from Boston."
Then the Penni Family Team jumpstarted their fundraising and boosted awareness for pancreatic cancer, PurpleStride Oklahoma 2017 and Peter's journey as a survivor.


Penni family gathers for annual cancer walk
The team raised over $5,000 and Peter secured the top fundraiser spot at the event by raising over $3,000 himself! On June 3, the siblings walked together at PurpleStride with hundreds of fellow "purple people" surrounding them.
By raising funds for PurpleStride, Peter and his family are improving outcomes for those affected by the disease.
"I am a SURVIVOR. And while I am very thankful to be one, I tear up thinking about it, because it also serves as a reminder of all those who are not."
Support the walk to end pancreatic cancer and fight for more survivors like Peter by signing up at purplestride.org