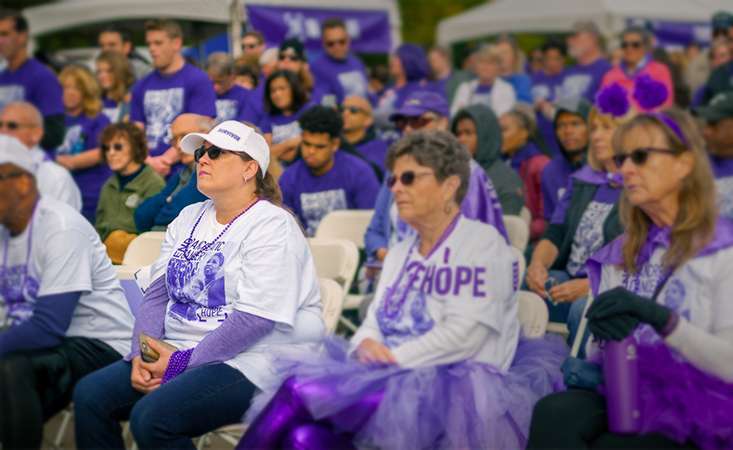 Editor's note: Our weekly "It Starts with Someone" series takes a turn this month as we focus solely on people who have survived pancreatic cancer for more than a decade. Today, Pancreatic Cancer Action Network (PanCAN) volunteer and supporter Kellie Elledge-Bott shares her nearly 18-year journey with pancreatic cancer. Keep an eye out for more stories from long-term survivors every week in August.
"What the heck is pancreatic cancer?"
Those were my thoughts in 2001 when I was told I had the disease and that I should get my affairs in order. I had only heard of Michael Landon dying from it years before.
I was 34 years old and a divorced mother of two preteen kids. I knew I couldn't leave them. But I was given only a 19 percent chance of surviving.
It's been almost 18 years.
My tumor was the size of a softball, and it was at the tail of the pancreas, compromising blood flow to the spleen and left adrenal gland. During surgery, doctors removed two-thirds of my pancreas, plus the spleen and adrenal gland.
I've learned that I'm stronger than I or anyone ever thought I was. Shortly before my diagnosis, I had gotten out of an abusive marriage and was working more than 60 hours a week to support my children and myself.
I wasn't listening to my body telling me to slow down. I now listen to it and tell others to do the same.  I also stop to "smell the roses."
Life is way too short to not do the things you are waiting for tomorrow to do. "Do it now," I always say. Eat the cake. Walk in the rain. Dance. Sing. Just don't wait for tomorrow.
What do I tell others who are in the same shoes I was in? Try your darndest to be positive, because it makes all the difference in the world. Cry when you need to – it cleanses the soul – but think about the good things in life, too.
I can't picture my life without pancreatic cancer having been a part of it.
I'm grateful I can be a loud voice for those who have been silenced by pancreatic cancer. I'm grateful to have learned to smile again. I'm grateful that I got to meet my soulmate and get remarried. I've gotten to watch my children turn into great adults and become parents themselves.
I don't – for one minute – take anything for granted.
— Kellie Elledge-Bott, 17-year pancreatic cancer survivor