Editor's note: Linda Rose passed away in July 2018, but her legacy lives on in part through her personal story. We hope it inspires others to Demand Better for everyone affected by pancreatic cancer.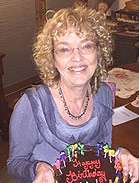 I was first diagnosed in May 2016 with a pancreatic neuroendocrine tumor with metastasis to the liver. A second biopsy showed adenocarcinoma with neuroendocrine and acinar cell features. My doctor recommended the Know Your Tumor personalized medicine service, and I enrolled.
I wanted to know as much as I could about my condition, especially because my biopsy results were somewhat mixed. Know Your Tumor gives pancreatic cancer patients and their oncologists information about the biology of their tumor and treatments – including available clinical trials – that are personalized to them.
While waiting for my Know Your Tumor report, I was treated with four rounds of standard chemotherapy. Scans showed no significant impact from that treatment.
Through my Know Your Tumor report, however, I found I have a very rare mutation (BRAF) – more commonly seen in melanoma – that responds to targeted therapy. My doctor and I used these findings to determine my next treatment option – a clinical trial.
My last two scans have shown a 50 percent tumor size reduction in four months, and I have gained back the 20 pounds I lost. I feel really good.
I would definitely recommend Know Your Tumor to others. The more you know, the better. If I hadn't found out I had a rare mutation, I would still be treating the cancer ineffectively. Targeting the treatment to the tumor mutation has made a huge difference in the quality of my life and in my scan results.
Every pancreatic tumor is different. The Pancreatic Cancer Action Network strongly recommends molecular profiling of your tumor to help determine the best treatment options.
Contact a PanCAN Patient Services Case Manager today to learn if molecular profiling through Know Your Tumor is right for you.