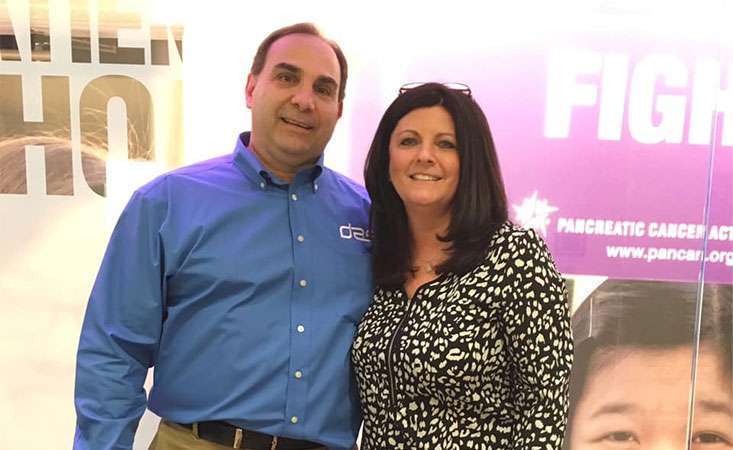 His wife saved his life.
Joe LaRose gives credit for his early pancreatic cancer diagnosis to her – he had been scheduled to have an endoscopy so doctors could be sure that what they thought was acid reflux was nothing more serious.
On the day of the scheduled procedure, though, LaRose was feeling great. He had changed his diet to try and ease his acid reflux symptoms, and that had seemed to help a lot.
"I'm feeling fine and I'm super busy," he told his wife. "I'm not going to go."
Donna LaRose, who is a healthcare professional, shot back, "You're going!"
It's a good thing she pushed him – the procedure revealed a pancreatic neuroendocrine tumor (PNET) Stage 1B.
LaRose underwent the Whipple procedure just days after his diagnosis, and today, he is a six-year pancreatic cancer survivor.
The Pancreatic Cancer Action Network (PanCAN) was integral to his healing.
He will never forget the first meeting of Philadelphia PanCAN volunteers that he went to.
"That's where my story began," he said. "We were all asked to introduce ourselves and say a little about why we were at the meeting. I was a little uncomfortable since I didn't know anyone, and so I did a brief introduction."
During a break, PanCAN volunteer leader Bruce Platt made a point to seek out LaRose, telling him, "We are all here for you. We are literally here for you and all pancreatic cancer survivors. And we love hearing your tell your survivor story every chance you get."
And so he did.
"I had never had anyone make an impact on me like Bruce did at that moment," LaRose said.
That same year, six months after his diagnosis, LaRose and his family formed a team for PanCAN's PurpleStride 5K walk, and he began to share as often as possible that he was a pancreatic cancer survivor.
"PurpleStride changed my life – I saw the power and compassion of mankind there," he said. "And the energy was incredible."
LaRose also attended PanCAN's Pancreatic Cancer Advocacy Day, meeting with his members of Congress and advocating for more federal research funding for the disease.
Soon, the Philadelphia company he works for, Dynamic Advertising Solutions, began to support PanCAN – the company stores and ships PanCAN's Shop Purple items that raise awareness and proceeds for the organization.
Dynamic Advertising Solutions also provides participant T-shirts for several PanCAN PurpleStride events.
Because of LaRose's passion for PanCAN and raising awareness and funds, Dynamic Advertising Solutions also created a program that encourages all its employees to support a nonprofit of their choice.
LaRose is certainly passionate about the one he supports.
He has made several trips to the PanCAN national office in California as part of his work with Shop Purple. Each time he's there, surrounded by staff, he sees the same passion and commitment that he finds at affiliate meetings and PurpleStride.
"PanCAN offers the complete package," he said. "They have you covered as far as disease information and support. The abundance of information a patient can get there, combined with the emotion and the sincerity behind all they do, are what set this organization apart."