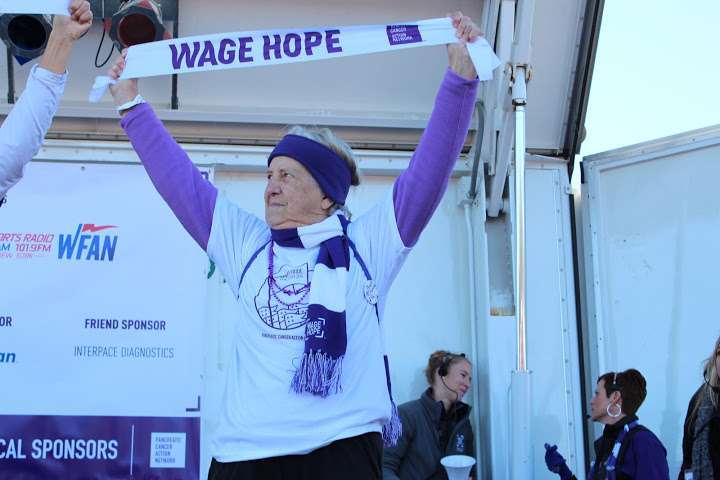 When Frannie Flatau was diagnosed with pancreatic cancer in 2007, she never entertained the idea that the disease may kill her.
"If you take that attitude, it's going to get you," said the 80-year-old grandmother of eight.
Her brother, who was a sports medicine doctor, recommended her to seek treatment at Johns Hopkins. She took his advice and underwent surgery on July 26, 2007. In June 2008, Flatau was declared cancer free.
"My brother's advice saved my life," Flatau recalled.
An avid tennis player since she was 30, Flatau celebrated the good news by going to the Huntsman World Senior Games in Utah.
But she wanted to do more to celebrate her new lease on life and let others know the disease isn't a death sentence.
"The minute you are diagnosed, you are a survivor."
On her 79th birthday, Flatau took the stage at PurpleStride Charlotte to announce her goal: She would complete 16 PurpleStride events, totaling 80 kilometers, during the year of her 80th birthday.
From Sept. 2014 to Nov. 2015, Flatau accomplished her goal of walking 80 kilometers by participating at PurpleStride Charlotte (twice), Maryland (twice), Silicon Valley, Phoenix, Virginia Beach, Nashville, D.C., Connecticut, Pittsburgh, Northeast Pennsylvania, Raleigh, Columbus, Philadelphia, New Jersey and finally Sacramento as the "icing on the cake."
Since her involvement with our organization, Flatau has walked in 40 PurpleStride events.
But Flatau's efforts go beyond just PurpleStride.
She will once again attend National Pancreatic Cancer Advocacy Day on June 21, to urge Congress to increase federal funding for cancer research, and, in turn, raise awareness.
"I love taking the photo on Capitol Hill," said Flatau. "You see the tourists taking photos of us even if they don't know who we are."
Flatau never passes an opportunity to educate people about pancreatic cancer. She even sends her grandsons (who are on the school soccer team) purple socks in hopes of raising awareness at their school. "I want to sock-it to pancreatic cancer!"
After Advocacy Day is finished, Flatau will focus her efforts in her native Maryland. In her spare time she may go to a Raven's game here and there – not only because she's a die-hard fan, but so she can see thousands of people wearing purple.
"Purple is the new pink," she added.