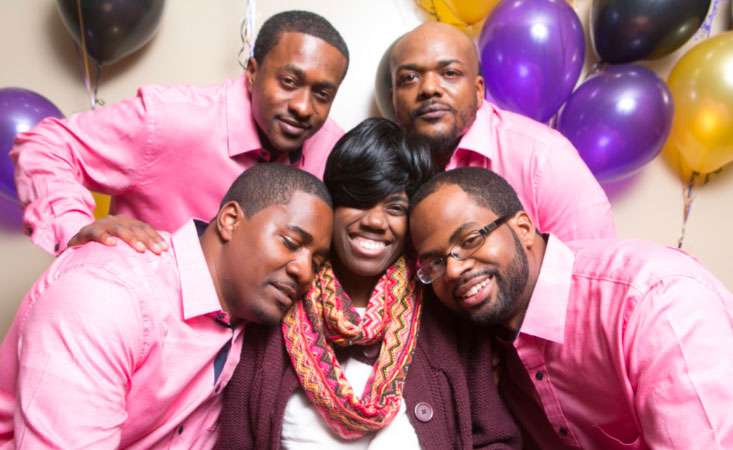 For Crystal Morgan, social media is more than memes and likes.
A six-year pancreatic cancer survivor, she shares through Instagram and TikTok the ups and downs of her journey with equal doses of humor and wisdom.
The New Jersey resident has posted short videos about coping with hair loss. She celebrated her five-year "Whippleversary" by sharing moments that she remembers the most from that day, including the "taste of the oxygen mask," the presence of her surgeon, Dr. Timothy Kennedy, whom she calls a "red-head surgical genius" and "the army of loved ones behind me." One video shows her feet with a mismatched sandal on each foot (toenails painted purple, of course). The caption reads: "Chemo brain? Over 50? Or am I just tired? Either way, shhhh, I'm just livin' my life."
That candor has resonated with many fellow survivors and their loved ones, who see in her story that it's possible to persevere with the help of good friends, family, and for Crystal, her faith in God.
"I try to be as transparent as I possibly can," she said. "There are good days and there are not so good days. But it's true, as raw as I can be."
Every person that reaches out to her is a sign that she's making a difference.
"One of the comments that I read through recently, she said, 'I needed this today, especially today.' Those kind of things…It gives me goosebumps. It makes me feel like it's my purpose."
It's a purpose born from years of struggle. Like so many, Crystal had vague but worsening symptoms before her diagnosis in June 2016.
"After about a year of gradually progressing symptoms like back pain, ab pain, weakness and loss of appetite, I started losing weight inexplicably," she said. "And then I started passing out."
One day when the symptoms were particularly bad, she drove herself to the emergency room and passed out during the registration process.
"I didn't leave the hospital," she said. "That's when I was diagnosed."
It was then she met her "incredible" oncologist, Dr. Patrick Lee. They instantly became "Team Crystal" and have been committed ever since. She knew she wanted to attack pancreatic cancer head-on, with her 21 year-old daughter, Alana, serving as motivation and inspiration.
"For me, sitting there, a young African American woman, not even 50 yet, I just ticked off a lot of boxes that said, 'Let's fight.'"
She went through "aggressive chemo" and 30 rounds of radiation before the Whipple procedure.
After the roughly 10-hour procedure, the surgeon had unfortunate news. He told her they couldn't get all of the cancer, which presented not only in her pancreas but in her duodenum and liver. But he had a plan.
He wanted her to try an immunotherapy treatment that was not yet FDA-approved for pancreatic cancer but had shown promise for other types of cancer. This meant enrolling in a clinical trial. She said yes.
"The next thing I know, the clinical trial team was in my room surrounding my bed with a stack of papers for me to sign," she said. "I was going to be the very last patient that entered into the trial."
Her cancer responded to the treatment. And now, Keytruda (pembrolizumab) is FDA-approved to treat a range of cancer types that are caused by a defect in the cells ability to repair DNA called DNA mismatch repair (MMR). Doctors can find evidence of this defect by looking for molecules called biomarkers in the tumor tissue or blood. Patients who have unresectable (unable to be removed by surgery) or metastatic tumors with the DNA mismatch repair (MMR) biomarker are eligible for Keytruda, making it the first FDA-approved immunotherapy based on a biomarker, regardless of tumor type. For Crystal, her participation in the clinical trial was not only about her but about the many others who are now able to receive the treatment.
"To know that my testing and my tissue sample and my results moved a mountain with the Federal Drug Administration…really? Wow," she said.
Through social media, she always encourages people to talk with their healthcare team about clinical trials that may be right for them.
"That makes up a lot of the questions that come into my inbox," she said. "And guess where I point them? PanCAN.org."
Crystal has been on Keytruda since 2019, visiting the hospital every 21 days for infusions. She considers the nurses and her oncology team at Monmouth Medical Center Southern Campus her "family." A self-professed crafter, she makes cards and finds gifts and other ways to share just how important they are to her.
"I always try to find ways to thank them," she said. "It may seem small, but it's big. It's more for me than for them because I don't know how I could express appreciation."
For others facing a diagnosis of pancreatic cancer, she recommends a can-do attitude and an openness to possibilities.
"You've got to ask the questions, be patient and give yourself grace," she said. "And I honestly feel that in doing so, the people that are supposed to be in your life, will be. They'll come to you."
One way to take charge: Genetic testing. She always encourages patients to do it to inform next steps and to understand more about any risks for family members.
"It's for peace of mind," she said. "Also, so that you can get targeted treatment and you can be prepared."
As she looks ahead, Crystal plans to continue to connect with survivors and their loved ones through social media, calling them her fellow "warriors." Because there's power when you find your tribe, encouraging each other to take on the day.
"Picture what it means to be a survivor for you," she said. "For me, when I open my eyes before I even hit the ground in the morning, I pray. It's a prayer of gratitude. It's a thank you for waking me up because I know that there's somebody that didn't wake up. And waking up as a pancreatic cancer survivor, that is huge. How can I take that for granted?"
PanCAN recommends consulting with a pancreatic cancer specialist. PanCAN does not recommend or endorse any particular physician or institution mentioned in constituent stories and blog posts. 
Any treatments, including clinical trials, mentioned in this story may not be appropriate or available for all patients. Doctors take many things into account when prescribing treatments including the stage and type of cancer and the overall health of the patient.