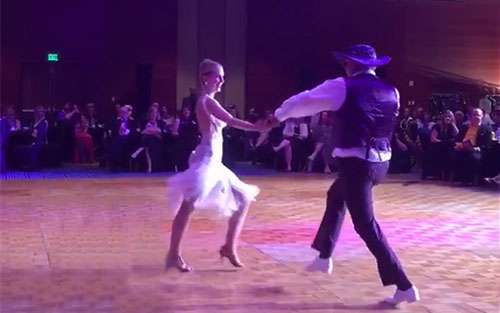 In August of 2015, Hans Johnson was diagnosed with stage IV pancreatic cancer. The cancer had already metastasized to his liver. At the time of diagnosis doctors gave him a prognosis of six to 12 months with chemotherapy. With the help of healthcare team, a lot of laughter and a positive attitude, he beat the odds. In February of this year, he rang the bell at Minnesota Oncology announcing he was cancer free.
This past weekend, the father of two from Bloomington, Minn. danced to raise awareness and funds, and spread hope for those facing pancreatic cancer at the Dancing with the Twin Cities' Celebrities charity ball presented by the Arthur Murray Charity Fund.
Hans competed in memory of his best friend Todd Hansen, who was diagnosed with pancreatic cancer four years before him. Todd sadly died from the disease in December 2015.
"Getting the chance to now help inspire cancer patients is something I won't ever take for granted as long as I live," Johnson said.
Hans is determined to create more awareness about pancreatic cancer, the world's toughest cancer with a five-year survival rate of just 9 percent in the United States.
And thanks to his efforts, he raised over $2,500 for PanCAN at the charity ball.
"I'm not in remission," added Johnson. "Instead, I have a new mission of helping cancer patients and caregivers however I can."
See Hans Dancing with the Twin Cities' Celebrities.