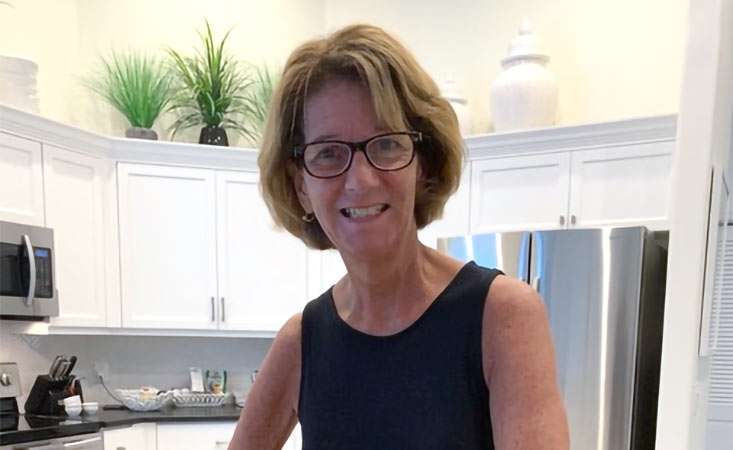 I am a 61-year-old wife, mother of three daughters and grandmother of two (soon to be three) beautiful grandchildren. They are my world – they are my reason to fight every day to stay healthy and active.
I have always been an active woman, playing tennis, running, spending hours in the garden – and I knew something was not right when I felt my energy level drop.
I was diagnosed with stage III pancreatic cancer in June of 2019, after months of testing while the doctors tried to figure out what was going on.
I was initially told that there was nothing they could do for me but chemo. Rather than stop at the first response, I fought hard to get a surgeon who was willing to take the chance of performing a Whipple operation, despite the fact that the tumor had wrapped around a major vein. I found such a doctor out-of-state, and my husband, daughters and I traveled to Baltimore, Maryland, in December of 2019 for the Whipple procedure.
Prior to the surgery, I had 10 rounds of chemo and also had radiation done. The Whipple was a success, and the tumor was completely removed. I underwent four more rounds of adjuvant (post-surgery) chemo in the spring.
As of today, I have had two CAT scans over the past 10 months, and both have come back with no sign of cancer!
I live each day grateful for the surgeon who was willing to take the chance and expertly remove the tumor. I live every day grateful to see my children and grandchildren as they grow and change each day. I know that with the love and support of friends and family, anything is possible!
There is always hope! Never, ever give up the good fight.
Editor's note: Although 20% of pancreatic cancer patients may be eligible for surgery, data shows that up to half of those patients are told they are ineligible. The Pancreatic Cancer Action Network strongly recommends you see a surgeon who performs a high volume of pancreatic surgeries (more than 15 per year) to determine eligibility.
Contact PanCAN's Patient Services
for free, personalized and in-depth disease information – including information about treatment and a list of high-volume surgeons and other specialists.
Any treatments, including clinical trials, mentioned in this story may not be appropriate or available for all patients. Doctors take many things into account when prescribing treatments including the stage and type of cancer and the overall health of the patient.