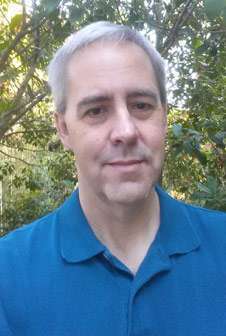 I was diagnosed with pancreatic adenocarcinoma in 2014. As the father of three school-age children, I had too much to live for to let my diagnosis stop me. The cancer was hard to find. An abdominal ultrasound, an MRI and an endoscopic ultrasound with biopsies showed no cancer, so I was diagnosed with chronic pancreatitis. It wasn't until two months later when the tumor was pressing on the bile duct and making me jaundiced that my doctors did the tests again and found cancer.
My tumor was too close to a vein for immediate operation, so I was given chemotherapy – just about the most difficult chemotherapy there is. But four months later, my tumor had shrunk, and I was a candidate for Whipple surgery, which I had in January 2015.
Now, nine months later, I'm doing well, with no evidence of disease. I walked in my local PurpleStride 5K only four months after surgery. I'm back at work full time, getting exercise, eating well, feeling good and living a fairly normal life.
Because of my success against pancreatic cancer, I've devoted my spare time to helping others through the Pancreatic Cancer Action Network. Next week, I will host the local PurpleLight ceremony. I hope to bring some comfort to the many who have lost their loved ones to this disease but also to bring hope to everyone who fights pancreatic cancer. Too many people fall victim to this disease because they don't even know they have it. I was lucky, but I want to take luck out of the equation – we need better diagnostics and treatments. This is why I Wage Hope for my family and for others who aren't as fortunate as I was.