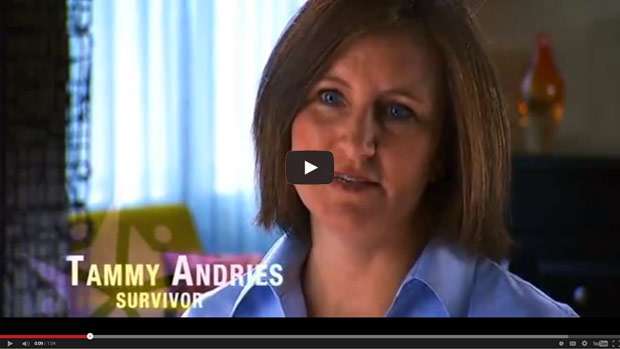 My story is one of hope and one of success. However, my story starts out like so many others.
Although I had no risk factors and no symptoms, I was told at the age of 39 that I had been diagnosed with a rare form of pancreatic cancer. In fact, of the 37,000 people diagnosed with the disease that year, only about 2,500 would be diagnosed with my kind: a pancreatic neuroendocrine tumor, or islet-cell tumor.
I was one of the lucky ones: my 8-centimeter mass, which was the size of a grapefruit, was operable. My doctor performed the Whipple procedure flawlessly. My husband and three children, ages 5, 7 and 9, were happy to learn that my surgeon got all of the cancer cells.
Doctors found my tumor completely by accident. While we were traveling to visit friends in June of 2005, I began to experience severe pain so we had to stop in at an emergency room in Eau Claire, WI, for what turned out to be kidney stones. When I was examined then, they didn't catch the tumor.
Later, when we returned home to Waunakee, WI, the medication I was taking was not relieving my pain, and I went to another ER.? During that visit, they performed a CT scan, I learned about the tumor on the head of my pancreas, and was told that I needed to see a doctor right away. Making an appointment like this would normally be easy to do, but we had just moved, so it was even harder.
After a little research, I found a doctor, got a second opinion, located a surgeon, and had the operation in the span of three weeks. I stayed in the hospital for seven days; during two of those days, they were unable to control the pain, which was excruciating.
Everyone asks me if I had any signs of symptoms, to which I answer no. I had always been healthy: I did not drink and did not smoke. This diagnosis came out of the blue.
I am happy to report that as of March 2009, I am a three-year survivor of pancreatic cancer. Because I am a survivor, I am able to advocate for so many others who cannot speak for themselves. We need early detection screening tools, and we need money for researchers to study this disease, which is the fourth deadliest type of cancer.
In health,
Tammy L. Andries
Waunakee, Wisconsin