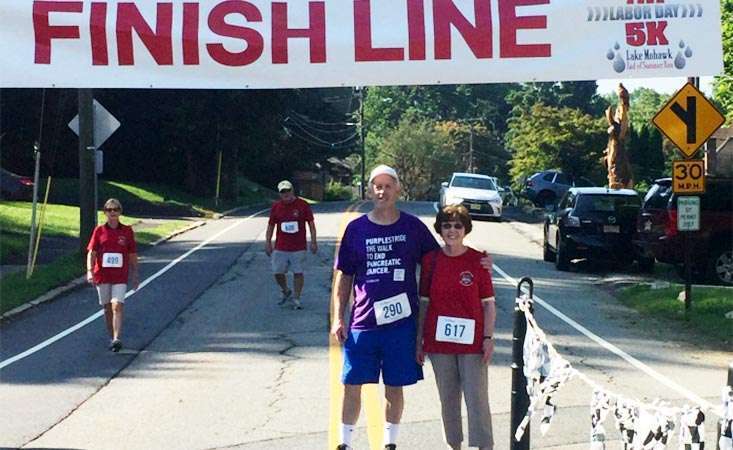 Editor's note: Bruce Hill died of pancreatic cancer in January 2019, but we share his story here in hopes that it inspires others to continue to Demand Better in the fight against this disease.
Bruce and Linda Hill have experienced a lot of events most married couples typically do, except for one, coinciding cancer diagnoses.
Bruce is currently battling pancreatic cancer, while Linda is fighting renal cancer. Their daughter-in-law is also recovering after her own battle with breast cancer.
Having three cancer diagnoses in one family at one time, one would expect to find hopelessness. Far from it, they have each found courage in each other's determination to beat their form of cancer.
It was Linda who found out about the Pancreatic Cancer Action Network (PanCAN) through online research. She called PanCAN Patient Services for information on Bruce's pancreatic cancer diagnosis, recuperation and how to move forward.
Bruce stated that his diagnosis first came as a huge blow, but he refused to give in. "The initial diagnosis was shocking and devastating for my family. But I was positive from the beginning that I was going to beat this. I refuse to let this cancer kill me."
The resources and support the Hills received from PanCAN inspired the couple to devote their time to volunteering after attending their first local New Jersey affiliate meeting. Bruce and Linda are now the Survivor & Caregiver Engagement Chairs for the Northern New Jersey Affiliate.
Recently, Bruce and his family found out that his tumor is no longer responding to his current chemotherapy regimen, maintaining his status as a stage IV pancreatic cancer patient. While he is looking into other treatment options, this setback has not deterred him.
Bruce has completed several 5Ks and advocated for more pancreatic cancer research funding with his wife on Capitol Hill during Advocacy Day this past June. He and the New Jersey delegation met Senator Cory Booker and the Edge, guitarist of the famous rock band U2.
"So, what do you do the day after your doctor tells you that your abdominal mass is inoperable?" Linda mentions in a recent blog post where she and Bruce share updates.
"Well if you're Bruce Hill, you go to the gym in the morning, mow the lawn in the afternoon, and go boating in the evening! I'm so proud of my husband!" Linda shines with positivity even as she endures her own health struggles. Like her husband, she refuses to give up hope.
In both of their cancer journeys, the couple has received tremendous support and outpouring of well wishes. Members of New Jersey's affiliate have helped drive them to various doctors' appointments. They have even managed to make more PurpleStride and pancreatic cancer connections.
While at a chemotherapy treatment in August, Bruce met a man named Mike who was wearing a PurpleStride T-shirt. "As soon as he walked in wearing a PurpleStride shirt, I went over to talk to him. Turns out he lost his wife to pancreatic cancer two years ago, just six months after she was diagnosed."
Mike mentioned that he and his family had participated in PurpleStride New Jersey 2017, the walk to end pancreatic cancer. The Hills participate in the event each year with their team, Hopatcong Hills, in honor of Bruce's fight.
Because of his health, Mike told Bruce that he might not be able to participate in New Jersey's event this year. Bruce told him that he would walk in tribute to Mike's wife. "I participate in PurpleStride for myself, other survivors and those who have lost their battle with pancreatic cancer. Our team inspires me by helping others facing this battle."
Indeed, cancer had another Hill to face. It came as a shock when Bruce and Linda's daughter-in-law, Laura, was diagnosed with breast cancer.
Throughout her diagnosis and treatment, Bruce and Linda gained inspiration from Laura with her positive energy, can-do attitude and smile. She underwent months of chemotherapy and had surgery this past summer.
Linda was amazed to find out that she and Bruce served as Laura's motivation. "Awhile ago, Laura told Bruce and me that we were her inspiration. As cancer survivors ourselves, that meant a lot to us at the time.
"But I can tell you now that the situation has reversed. Bruce and I look to Laura for strength and inspiration! Together, our family will fight the beast of cancer!"
For anyone who is currently on their own cancer journey or has a loved one battling a diagnosis, Bruce suggests to research options. He also credits the resources PanCAN has provided him, including the opportunity to connect with others.
"My advice would be to research doctors, hospitals and treatments; contact PanCAN and never give up! Linda is a caregiver with the Survivor & Caregiver Network. Volunteering connects you to other survivors and caregivers and those who've lost loved ones to this disease. It's like having a second family."
PurpleStride New Jersey is taking place on Sunday, Nov. 11, at Mack-Cali Business Campus, Parsippany. If you would like to keep up with Bruce and Linda on their journeys, you can visit their blog or catch their posts on Facebook.
Get involved with your local
PurpleStride
today to demand better for patients, like Bruce Hill, advance research and create hope for survivors and their families.