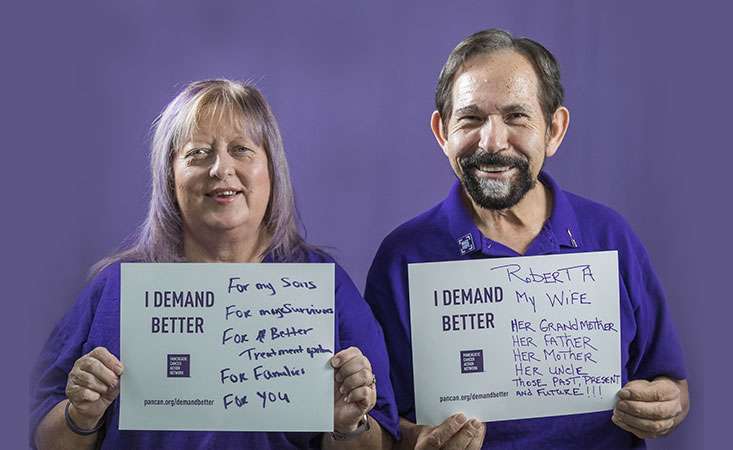 Editor's note: Roberta Luna is a volunteer leader for the Pancreatic Cancer Action Network (PanCAN), serving as the Mission Chair for the Orange County Affiliate in Southern California. She is also a member of PanCAN's Survivor Council and Survivor & Caregiver Network. Her husband, Vic Luna, is also a volunteer leader, serving as the affiliate's PurpleStride Chair.
Roberta, why are you passionate about raising awareness for pancreatic cancer?
My grandmother died two months after being diagnosed with pancreatic cancer. My dad died within two weeks of being diagnosed with the disease. My uncle died two days after his diagnosis. My mother died five years after being diagnosed with pancreatic cancer.
I am a 16-year pancreatic cancer survivor.
It's almost unbelievable to hear of the disease affecting a family in this way. Vic, this is your reason for being such a dedicated volunteer, as well. 
That's right. I do this for my wife, Roberta, and her family. They're the reason I Demand Better.
Vic, what favorite tips do you have for raising funds to fight pancreatic cancer?
Tell your story, first of all. It's very important to put a face to the disease and not just hear about the statistics. If you're thinking of doing a PurpleStride or fundraising in your own way, do it. It's a great way to bring awareness and raise money so we can see more survivors.
Roberta, a few more questions for you. First, talk to us about the meaning behind "purple family," which you're so apt to say.
If you've been affected by pancreatic cancer, you need to know you're not alone. You become part of our purple family – it may not be a family you wanted to be a part of, but it's a family just the same.
We are there for each other. We have different stories, but our goals are the same – to have more survivors and to support each other in the wake of this disease.
Word on the street is that you, well…raise awareness on the street. Tell us about it.
Word on the street is correct! A few things that I do: I wasn't a purple person before, but it's become my color. My hair, clothing, jewelry – I wear purple all the time. People will say, "You must really like purple." It's a great conversation starter when I say, "No, not really! But this is why I wear it."
I also have a little suitcase in my car with business cards, PanCAN magnets, information on PanCAN Patient Services. People don't know where to go once they have gotten that diagnosis, and I want to make sure people I meet don't feel that way.
Finally, Roberta, what do you tell people you meet who are newly diagnosed?
That there is hope and a chance to survive. Too often people are told by their doctor that they aren't going to survive, and I say, "I was told to go home and put my house in order 16 years ago. I'm still here. My house wasn't in order then and it's not in order now."