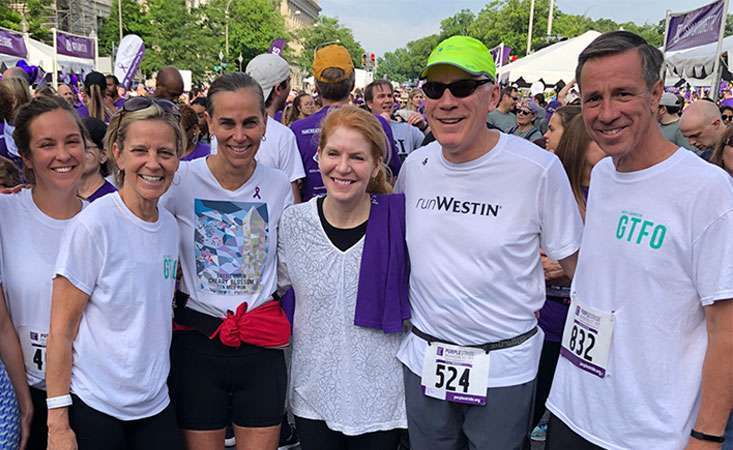 Editor's Note: Arne Sorenson, CEO of Marriott International, announced his pancreatic cancer diagnosis in May 2019. He recently participated in PurpleStride Washington D.C., the walk to end pancreatic cancer, and shared his experience in a LinkedIn blog post. His article is reposted here with permission.   
Running is one of the greatest joys of my life. I've written about it a lot, because it's so beneficial – not only to my health but to my outlook and my productivity.
Exercise helps me with clear thinking and stress relief. And since I typically travel 200 nights a year for work, a morning run in a local neighborhood allows me to see new cities up close and often get acquainted with adventurous Marriott associates who run with me.
When I was diagnosed with cancer last month, I wondered immediately what was to become of this stress relieving diversion. The doctors haven't prohibited me from running. Just the opposite. They say listen to your body and stay as active as you can.
That was the permission I needed. I'm not running as much, or as fast, as I have in the past, but I still find it an important release. And maybe, just maybe, there's a bit of defiance in my runs these days. I may not win the running race, but I'm going to do what I can to win this battle.
This past weekend, I joined others who saw a 5K as part of the battle against cancer. About 3,400 people took part in PurpleStride Washington, D.C., the annual run/walk to end pancreatic cancer. This year was the event's 10th anniversary.
It was an eclectic group of striders – as they call them. There were young adults, senior citizens, teenagers and young children. Some of them were researchers, others were advocates and many more were impacted families. What we all had in common was a desire to beat this disease.
Together, with my wife, a few of our kids and a good representation of Marriott associates, we collected our purple t-shirts (the symbolic color for pancreatic cancer awareness) and walked or ran the 5k, starting at Freedom Plaza near the White House.
It was uplifting to be a part of this passionate community. Hosted by the Pancreatic Cancer Action Network, the event raised more than $900,000 for research and patient services.
I didn't win the race. In fact, just months ago, I would have been frustrated by my time. But I went home energized and grateful that my old passion has an even deeper purpose.
My call to action hasn't changed: lace up your sneakers and run or walk. Do it with others whenever you can. Make it a routine. You'll be grateful you did.
— Arne Sorenson, President and CEO, Marriott International
Sign up as a participant for your
local PurpleStride
today to raise funds, advance research and create hope for survivors and their families.