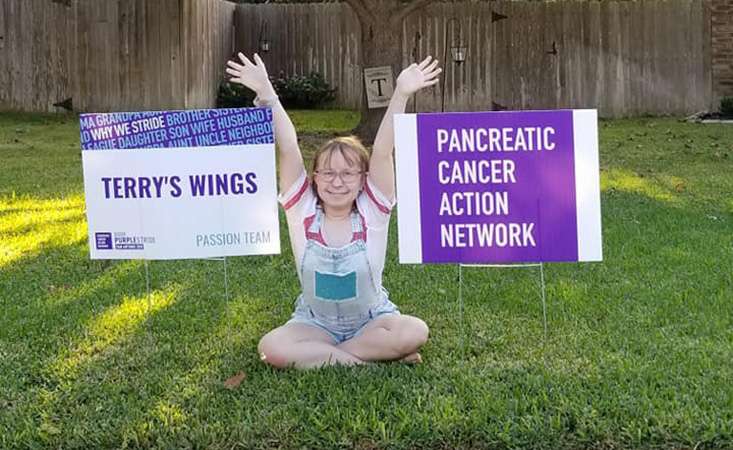 Editor's note: Aug. 12 is International Youth Day and here with today's blog is guest contributor Jenna Trigilio, 13. Jenna recently became a member of the "Grand Club" for PanCAN PurpleStride, meaning she is among the fundraisers who brought in more than $1,000 for PanCAN to help pancreatic cancer patients and advance research in the disease. Jenna says everyone can do the same. Enjoy her tips!
My Uncle Terry passed away from pancreatic cancer in 2015 when I was just 7 years old. That's when I learned about the PanCAN PurpleStride San Antonio walk.
Soon after, I came to know what PanCAN was and all the things they did to help other people going through pancreatic cancer. My mom and I got involved volunteering with the PanCAN affiliate group near us.
In doing PurpleStride San Antonio, my mom made the PurpleStride Grand Club because she raised over $1,000 for PanCAN. She got a special shirt and a certificate from PanCAN.
I knew I wanted that too, for me and for PanCAN! So I tried really hard – and I made it! Even during COVID! It was a fun challenge, and I wanted to share how I did it in this blog in case it inspires others to raise $1,000 for PanCAN, too!
How I Raised $1,000 and How You Can, Too – 8 Tips for Successful Fundraising
My mom was my marketing manager, so she helped me spread the word about what my goal was. She let me use her Facebook to post my messages there that encouraged people to donate toward my goal. If you're too young for social media, ask your parents to do the same for you, or post your own messages.
When I got 15 donations, I made a short thank you video and Mom posted that on Facebook, too. That brought in so many more donations! This is a great way to remind people what you're doing and why.
My mom also linked my PurpleStride fundraising page to Facebook Fundraiser, which is very easy to do and will bring in donations quickly. Again, she allowed me to post messages and videos on Facebook Fundraiser, which brought in a lot more donations.
My dad is my biggest fan so he was involved, too. He is always wanting me to try different foods he thinks I will like. So for PurpleStride, to help me get to my goal, he challenged me to try different foods that added up dollars. We ended up naming this the "Spicy Challenge" and it was very fun. The donations kept coming in.
My friends know how much I loved Uncle Terry, so I challenged them to donate $10 each to PanCAN to help other pancreatic cancer patients and their families. I posted this challenge in a video and they all gave more than I asked for!!! Even their parents chipped in.
I volunteer in my community with Mom, and now many people know us in the area. At the Universal City Pumpkin Patch, they let us have a day at the patch to support PanCAN, and they gave us 30% of pumpkin sales to go toward my PurpleStride fundraising, plus a raffle table with PanCAN information. I walked around to greet people, handed out goodies and let everyone know there was a raffle table that would benefit PanCAN. I thanked them for coming out and they gave me donations for that, too.
Ask your parents if you can do anything to help them out in exchange for a dollar (or a bigger amount!). I racked up $178 that way.
Just one last tip: Always say thank you to the people who donate to you!
All PurpleStride events will take place on April 30, 2022 but it's not too early to register, donate and start fundraising for
PanCAN PurpleStride
now, to change the future for pancreatic cancer patients.