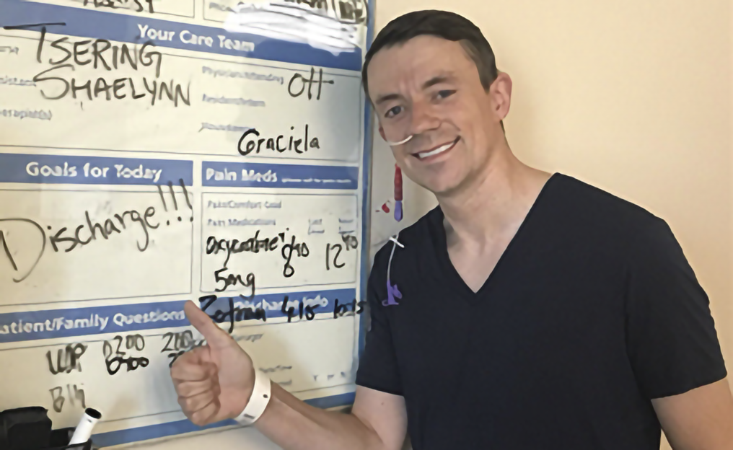 Editor's note: In honor of Doctor's Day, March 30, we caught up with Mark Lewis, MD, director of Gastrointestinal Oncology at Intermountain Healthcare in Utah.
Dr. Lewis has a unique perspective as a physician. He doesn't just treat pancreatic cancer patients. He is one. Dr. Lewis was diagnosed with pancreatic neuroendocrine tumors  (PNET).
PanCAN: What words of advice do you have for pancreatic cancer patients?
Dr. Lewis: Do not allow any statistics you hear to become self-fulfilling prophecies.
I have seen far too many patients hew to the numbers provided to them by oncologists – which are rough estimates, even at the best of times – as if they are completely set in stone. To that extent, that can be almost eerily limiting in terms of life expectancy.
PanCAN: What are the three most important things pancreatic patients and their loved ones should do after receiving a diagnosis?
Dr. Lewis:
Don't be afraid to ask questions. During the initial encounter, it's natural to experience the "tinnitus of terror," hearing only the dreaded diagnosis and retaining very little else. It's perfectly fine to seek clarity during follow-up or even to ask permission to record/take notes.
Do not compare yourself too closely to other patients. Median survivals are just that – the midpoint of a spectrum.
Be honest with your physician. I've had some patients not tell me about symptoms and side effects for fear that I will "undertreat" them. To the contrary, it's crucial I know what is happening with any given person so I can adapt therapy to optimize efficacy and tolerability. The "best" chemo in the world is no good if it's not sustainable.
PanCAN: You were diagnosed with pancreatic neuroendocrine tumors (PNET) in 2009 and underwent the Whipple surgery in 2017. How has being a patient affected you as a doctor who treats patients with pancreatic cancer?
Dr. Lewis: It's given me a bicameral mind. I can't help but be two-faced. Not in the sense of being duplicitous, but rather as being a patient-physician…and always living on the front part of that hyphenate.
I try to learn as an "embodied researcher," realizing that many of the metrics we revere in oncology are poor surrogates for what actually matters most to patients – and that is the duration and quality of their lives.
PanCAN: What are your thoughts about patients following their hunches?
Dr. Lewis: My encounters with patients occur as a punctuated equilibrium. I see them, examine them, and collect data at discrete timepoints, whereas they occupy a continuum and inhabit their body constantly.
Despite all the objectivity and scientific rigor that grounds my testing, I always trust their sense of self.
PanCAN: Tell me about the role that biomarker testing or genetic testing plays in helping patients advocate for themselves. What can you share about the importance of it for you personally and for patients?
Dr. Lewis: Very recently we have seen testing for hereditary mutations go from suggested to strongly recommended to nearly mandatory in the pancreatic adenocarcinoma population.
Finding a driver BRCA mutation, for instance, can help the patient and their oncologist find a maximally effective treatment regimen.
For example, these mutations tend to confer tremendous sensitivity to platinum-based chemotherapy.  But they may also signify the "tip of the iceberg" whereby other family members with the same genetic defect can be identified and appropriately screened.
PanCAN: You wrote an article for the Journal of Clinical Oncology, "Gain of Function—Empathy for Uncertain Patients with Cancer." What are the key takeaways in it for patients and their families?
Dr. Lewis: I wrote that a decade ago and the part that holds up best for me when I re-read the essay is the final sentence:
"No matter how much time remains, and whether the goal of care is cure, control, or comfort, we can tell our patients with absolute certainty that we will not abandon them to the unknown."
PanCAN: Do you have a message for pancreatic cancer patients and their loved ones?
Dr. Lewis: You are NOT alone.
Take advantage of the remarkable support systems available to you, not only family and friends, but also your wider network, including the remarkable online communities of similarly affected individuals. While COVID-19 has certainly hampered face-to-face contact, it may never have been easier to find a kindred spirit online.
PanCAN: What is your advice for physicians who need to deliver overwhelming news to patients?
Dr. Lewis: Talk less; listen more.
There is far too little room left for silence and reflection in our conversations. As tempted as we are to spew information, sometimes the words just need time to breathe, as do our patients.
Join Intermountain Health at PurpleStride Utah's inaugural event on June 5.
Register today
!