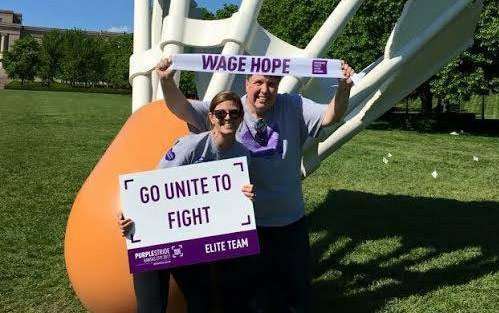 Note: This is the third installment in a 10-part series following Pancreatic Cancer Action Network volunteer Andrew Miller as he participates in PurpleStride walks throughout the country. Miller traveled 1,480 miles to Kansas City, Mo., from his home in Portland, Ore., and has accumulated a total of 5,028 miles through his PurpleStride travels. He shares his experience at PurpleStride Kansas City via the journal entries below.
Friday, May 5
I arrived for event setup at Theis Park early in the morning. I met Volunteer and Community Engagement Chair Inger Brane in the parking lot along with her husband, Matt, and her father and mother, David and Billie Stockam. Inger lost her sister to pancreatic cancer.
I soon met many of the Kansas City Affiliate core role volunteers, including PurpleStride Chair Lyndsey McDonald, PurpleStride Volunteer Chairs Mallory Weta and Michele O'Bryan and fellow Volunteer Advisory Council member and Affiliate Chair Kathy Grayson.
After introducing myself to the core team, it was time to get to work. I joined several volunteers assembling and hanging signs at the designated areas around the park. After completing that task, I joined Kathy's volunteer crew at tent setup. After the tents were up, we placed the tables, chairs and tablecloths in their respective areas. To finish off the morning, I used an 8-pound sledgehammer to secure ground stakes for the 20×20 tents. Whew! Workout done!
My friend from Las Vegas, Oklahoma Advocacy Chair Mike Linse, arrived and we broke for lunch. After lunch Mike and I hung tent banners with Mark Hurst, a five-year pancreatic cancer survivor. Soon after, Donor and Corporate Ambassador Charlotte Garrett arrived! We unpacked the food she brought, and I got to meet the food and beverage tent manager (and cool cat) Andrew Bonci. Event setup complete!
Later in the day, I got to meet Event Manager Fayne Pitts-Williams and Corporate and Community Partnerships Manager Britney Mula (from the National Office) at packet pickup. I loved Britney's story about her transition from core role volunteer for the Boston Affiliate to PanCAN staff member in Manhattan Beach.
Saturday, May 6
I arrived at the event and almost everything was ready. Advocacy Chair Erin Dedrickson had already set up the Wage Hope tent so I found myself helping lay out the swag items in the Elite Teams' tents. What was left to do? My good friend Mike suggested we take a sparkle spirit photo and I somehow ended up in a tutu…
The ceremony started and the weather was perfect. Mike did an incredible job assisting Erin at the Wage Hope tent.  The kids loved him! I also got to talk again with pancreatic cancer survivor Mark and his volunteer role in PanCAN's Survivor and Caregiver Network. This was my first time meeting a survivor volunteer taking part in that program, and so very thankful for the information that Mark shared with me!
Lyndsey's team GO Unite to Fight took second place in team fundraising for PurpleStride Kansas City 2017!  She and fellow team captain Erin Dedrickson raised over $5,800. This is an incredible accomplishment and inspiration to me!
Before I knew it, it was time for me to make my departure so I could catch my return flight home. What a wonderful time meeting the core volunteers, their families and friends of the Kansas City Affiliate!
#AndrewStrides will continue at PurpleStride Cleveland on Saturday, June 10. Donate to Miller's PurpleStride Cleveland fundraising page and search #AndrewStrides on Facebook, Instagram and Twitter to follow his journey.
Wage Hope at PurpleStride, the walk to end pancreatic cancer, by registering for an event near you!