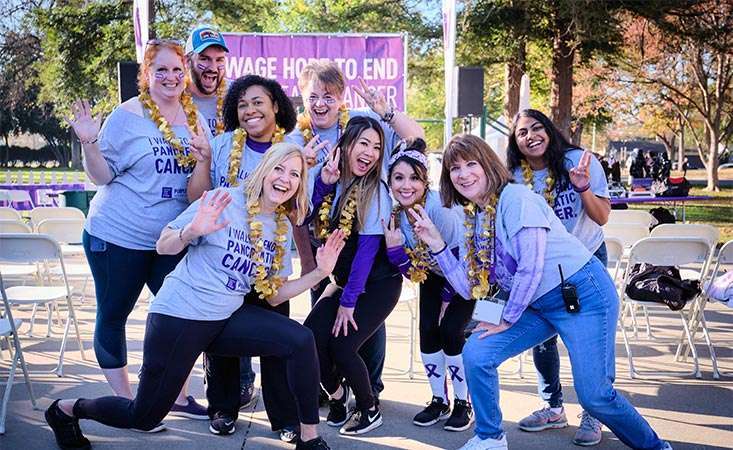 The Pancreatic Cancer Action Network (PanCAN) volunteers who move mountains for our mission in their communities are one-of-a-kind.
They're on the front lines and they're behind-the-scenes.
They're leading with courage and fighting back against pancreatic cancer with conviction.
Join us
for a virtual event Thursday, April 23 at 7 p.m. ET/4 p.m. PT, where we'll share how volunteer efforts are making a big difference for patients!
They're equally at ease advocating for federal funding for pancreatic cancer research, leading a meeting of volunteers in their communities, pulling off PurpleStride events, speaking with pancreatic cancer healthcare professionals, offering a shoulder to lean on, recommending PanCAN's PanCAN Patient Services service for pancreatic cancer patients and families …
…and so much more!
They're inspiring each other – and all of us – in ways we can't adequately put into words.
April 19-25 is Volunteer Appreciation Week, and all weeklong, we'll celebrate, recognize and thank PanCAN volunteers across the nation by shining the spotlight on a few of the hundreds of volunteer leaders who embody passion, commitment, and true grit in the fight against pancreatic cancer. (Check the PanCAN blog starting Monday, April 20, for their stories.)
Thank you – to infinity – volunteers, for being the heart of PanCAN!
Lorrie Greer leads PanCAN's Birmingham (Ala.) Affiliate of volunteers. She said the connections she has made through volunteering have led to special friendships.
"There's a bond that is formed when you're working together on something that's so much bigger than you."
Greer lost her brother to pancreatic cancer in March 2015, just two months after his diagnosis.
"We were always very close," she said. "I needed a way to funnel my grief after he died, and I found it in PurpleStride Birmingham. After I saw the great group that was behind the event, I reached out to see how else I could help. My volunteering with PanCAN is how I honor my brother."
In addition to strong bonds forged with new friends, who, many times, have been through a similar experience with pancreatic cancer, volunteers spread the word about PanCAN's valuable free services and support offered through its PanCAN Patient Services.
Greer has referred friends to PanCAN – and in addition to receiving PanCAN Patient Services support, several have gotten involved as volunteers.
She said she enjoys bringing new volunteers into the affiliate and doing what she can to help them find the right role for them.
"Keeping volunteers engaged is what makes a big impact, and I try to be the organizer and cheerleader for our affiliate. Not everyone can take on a leadership role, and that's just fine – there's something for everyone!"
Joy Heines is a 15-year pancreatic cancer survivor who's been volunteering with PanCAN for eight years. She has served in a variety of leadership roles in PanCAN's Louisville Affiliate, but right now she is the PurpleStride Chair.
"Volunteering is so rewarding in so many ways, but the one that leaves me feeling blessed the most is being a part of the PanCAN 'family.' I have met so many great people who have become a big part of my life. The core group of my affiliate is like family."
Heines has also seen – and felt – firsthand the joy that comes from encouraging others.
"Being able to meet other survivors and listen to the heartfelt stories gives me purpose. I enjoy being available to listen and encourage others to have hope," she said. "I Wage Hope for everyone fighting now, and for those in the future who will fight this disease."
Like Greer and many other PanCAN volunteers, Heines has been able to connect and build relationships with her elected officials in Congress, as well as healthcare professionals and researchers.
And in her role as PurpleStride Chair, she especially enjoys the people she meets in planning and overseeing the event.
"It makes for a fun and rewarding day!"
Speaking of PurpleStride, we want to give an especially loud shout-out to all the PurpleStride Chairs and volunteers who worked tirelessly on spring events affected by coronavirus. They transitioned their in-person walks to successful, spirited Virtual PurpleStride events in our first ever "Virtual Is the New Purple" season.
We are so grateful for their hard work!
Here's to another year of volunteer power – the driving force behind PanCAN's ability to support pancreatic cancer patients and their families. Know that your impact is felt in a BIG way!
Get involved
with PanCAN today for a rewarding experience filled with personal connection and purpose.