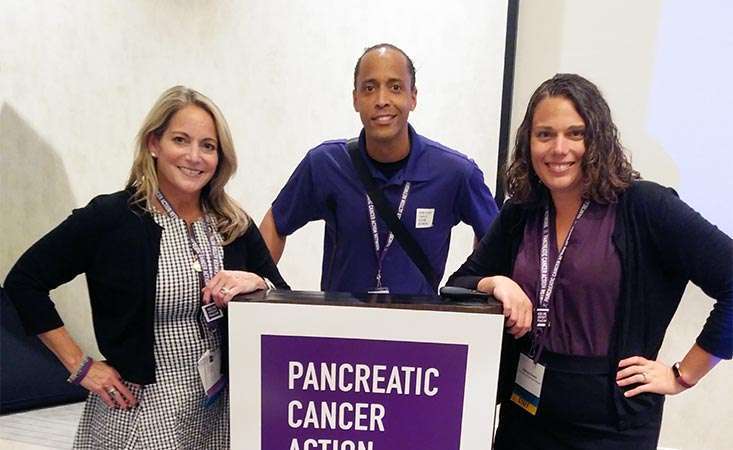 Editor's note: April 19-25 is Volunteer Appreciation Week, and we're celebrating, recognizing and thanking Pancreatic Cancer Action Network (PanCAN) volunteers by shining the spotlight on a few of the hundreds of volunteer leaders who embody passion, commitment and true grit in the fight against pancreatic cancer. Check back each day for a new story!
Snapper Freeman of Atlanta knows a thing or two about fundraising events.
By day, he works as the manager for the Walk to End Alzheimer's Georgia chapter. By night and weekends, he volunteers as the PurpleStride Chair for PanCAN's Atlanta Affiliate.
Freeman is a "roll-up-the-sleeves and get it done" kind of guy. So when a mentor of his was diagnosed with pancreatic cancer, Freeman knew he had to do something.
Through a quick online search, Freeman found PanCAN's PurpleStride Atlanta and signed up as a volunteer. What he saw at that PurpleStride event inspired him to get even more involved.
Join us
for a virtual event Thursday, April 23 at 7 p.m. ET/4 p.m. PT, where we'll share how volunteer efforts are making a big difference for patients!
PurpleStride – the walk to end pancreatic cancer – raises critical funds to improve patient outcomes.
PurpleStride in-person events have shifted to virtual events through June as a result of the coronavirus (COVID-19) pandemic. But supporters are showing no signs of slowing down on the fundraising front and are finding creative ways to show their support.
"Seeing the 'sea of purple' before my first PurpleStride walk was a moment I will never forget. It was as if time froze, and I was captured in that moment of purple," he said.
Though the majority of his volunteer focus is on his Atlanta Affiliate, Freeman shares that a goal of his is to volunteer with every PurpleStride event across the nation. He credits PanCAN for doing an amazing job connecting people.
"Any city I go to, it seems like I've been a part of their volunteer committee all year. Even though I live in Atlanta, I still feel like I'm part of PurpleStride Washington, D.C., Houston or even Phoenix."
What's the most valuable connection he's made as a result of his involvement? He says it's his PanCAN staff partner, the Community Relationship Manager for the region covering Atlanta.
"Kathryn Evans! 'Nuff said," Freeman shared with a smile.
"I honestly find myself at work coming across situations where I ask myself, 'What would Kathryn do?' Because of how great PanCAN is, I know every volunteer out there feels like they have the best staff person ever. But PurpleStride Atlanta really does have the best staff person ever."
The feeling is mutual.
"Snapper has a relentless positivity that makes working with him fun. Everyone in the affiliate loves working with him," Evans said.
Freeman has now lost two mentors and a close friend he met through PanCAN to the world's toughest cancer. These losses are what fuel his desire to make the biggest impact possible on the pancreatic cancer community.
"I volunteer with PanCAN because I witnessed my mentor go from being perfectly healthy and never sick a day in his life to being at his funeral three months later," Freeman said.
"After being involved for a few years and hearing the stories of people who have been affected, I will forever do anything I can to help fight this disease."
Interested in becoming a volunteer?
Join us
today!