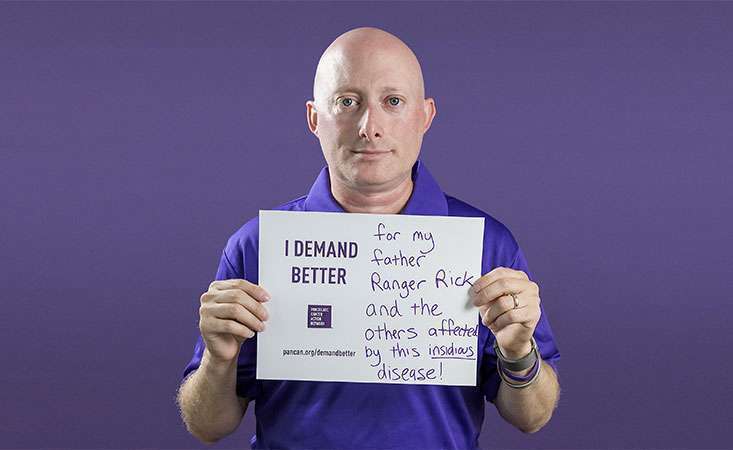 Editor's note: Todd Cohen, a longtime volunteer leader for the Pancreatic Cancer Action Network (PanCAN), currently serves as the November Awareness Chair for the New Jersey Affiliate. He lost his father to pancreatic cancer in 2002. 
Todd, you've been involved with PanCAN for many years as a devoted volunteer and advocate. Why?
My father was diagnosed with pancreatic cancer in 2001. I didn't know much about the disease, and PanCAN gave me information and resources to help me help my dad in the fight. Today I'm focused on raising much-needed awareness about this disease.
Talk about some of the ways you call attention to the disease in your day-to-day life.
I'm an educator, and we raise a lot of awareness about the disease at my school. We have a purple day, where students wear purple if they want.
Then they head outside together and have fun getting into a huge purple ribbon formation. We've done that for about eight years now. We also have morning announcements, where facts about pancreatic cancer are read aloud to the entire school.
I think it's important that students are informed about this disease at an early age. I've had parents come up to me, as well as students, and say, "I know someone with pancreatic cancer." It's a great avenue for me to tell them about PanCAN and all the resources they have for pancreatic cancer patients and families.
The disease is affecting so many people throughout the country. The public should be aware that more needs to be done – we need an early detection method and a cure – but we must get more people involved with this cause to get to that place.
Tell us about your dad.
My father was an anatomy and physiology professor at a local college. He actually knew a lot about the disease when he was diagnosed – he of course knew a lot about the pancreas. For me, I just knew that Michael Landon had it and that's about it.
My dad had jaundice, back pain and a lot of the symptoms people typically have with pancreatic cancer. But we didn't realize they were symptoms for quite some time. He had a tough journey, but I remember how determined he was to meet his soon-to-be-born granddaughter.
He did indeed get to hold her – she was born a few months before he died.
Seeing what he went through, I didn't want other people to go through the same thing. As a volunteer, it's my role, my purpose and my mission to help others avoid that fate and have a great future – something my father didn't get.
What's your bottom-line message about Pancreatic Cancer Awareness Month?
It's essential that purple is everywhere in November – and for people to make the connection to pancreatic cancer. As the incidence rate of the disease rises, I'm hopeful more people can get involved to raise awareness and funding, and help PanCAN and all patients who deserve better outcomes.