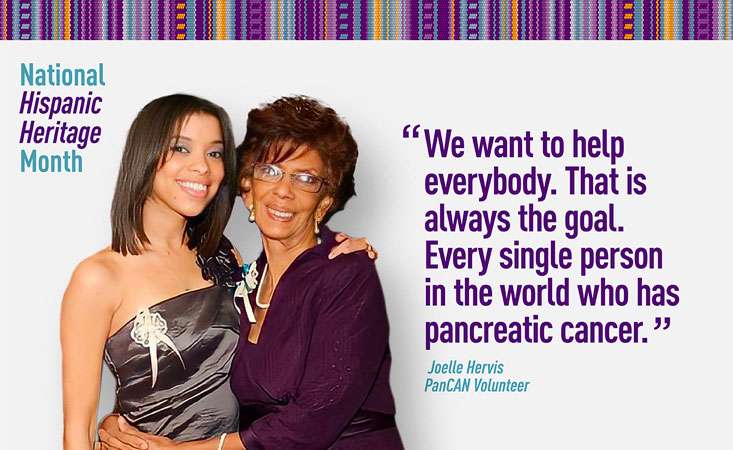 Walking sunshine.
That's how Joelle Hervis describes her grandmother, Martina Perez de Aza, who died from pancreatic cancer in March 2017, just nine months after her diagnosis.
The matriarch of a large family, Martina loved to dance. Loved music. She was kind and compassionate, a great listener, to the point where nearly everyone in the family considered her their "special confidante."
"When we were at her funeral, everybody was saying the same thing – that they had told Martina things no one ever knew," Joelle laughed. "Everybody had the same story."
Known by her two grandchildren and two great-grandchildren as Abuela Martina, she always thought of others first, setting an example for her family through her giving and compassionate nature.
Martina was also motivated to seek out opportunities and find her own path. A native of the Dominican Republic, she moved to Spain as a young woman. She found work as a housekeeper and nanny, all while raising three kids. When her eldest daughter, Joelle's mom, became an adult, she moved to the United States with her two children. Joelle was six years old when she arrived in the U.S. with her mom and older brother.
Soon, Martina left Spain as well, becoming a U.S. citizen and moving to Florida where Joelle, her brother and mom settled.
"She was such a fixture in our family and our lives," said Joelle. "She was the best cook in my family."
Joelle especially remembers traditional Dominican and Spanish dishes like tortilla de patatas, lentejas and locrio, always something simmering or baking. Most of all, Martina was present for her family members in ways large and small.
"We were a very Latino family in that there's always a grandparent around," Joelle said. "If you see any sitcom that's Latino-based, there's always a grandparent. She was that grandparent."
Her pancreatic cancer diagnosis, which came with very little warning, hit the family hard.
"When she was diagnosed, everybody really came together to show her as much love as possible, to try to uplift her," Joelle said.
After her death, the family wanted to keep that spirit of "walking sunshine" alive. Joelle and her husband, along with her mom and brother, founded a PanCAN PurpleStride Broward-Palm Beach team called "Martina's Heart."
"I knew that the only way I could honor her was to continue her legacy of compassion and giving back," Joelle said.
When they participated in their first PanCAN PurpleStride in 2018, Joelle knew it was the right place for her family.
"It was one of the most moving experiences," she said. "For a long time, you feel like you're on an island by yourself when you're going through it. And then, when we did PurpleStride, we realized that we're not alone. There are so many people who need support and who know our story, who are living our story."
She especially remembers the survivors who were in the thick of the fight against pancreatic cancer. Their presence motivated Joelle and her family to come back every year.
"When they did the dedication to the survivors, I was sobbing," she said. "But it was hopeful. I think that's what cemented the fact that this is what I needed to do."
Fast forward five years and the team has become a fixture at PurpleStride Broward-Palm Beach. This year, Martina's friends and family came together to raise more than $3,800. Joelle has also taken on a leadership role with the Affiliate as Communications Chair. It's a nice fit given her background in public relations and corporate communications.
"The fact that I get to use my career skills in my volunteer role is probably the most meaningful thing I do in my life," she said. "I get to spread the word. I've been able to tell my grandmother's story and our story too. If I can possibly help a family like mine, it's worth it."
Joelle is bringing another of her talents to her role – connecting with the Hispanic community. She knows the challenges that can come with a language barrier – Martina spoke Spanish -- so she's especially excited to reach Spanish-speaking communities. She has several times appeared on Spanish language television to talk about PanCAN Patient Services and all the support available to patients and families.
"There are so many communities -- especially communities of color -- that don't have access to certain resources," she said. "What PanCAN offers is all free, so we have this the ability to go into these communities and help them, which is huge."
Ultimately, the goal is to make sure every person facing pancreatic cancer has a team with them, no matter where they live or what language they speak. Joelle points to the Spanish language information on PanCAN's website and the Spanish-speaking members of the PanCAN Patient Services team as key, as is PanCAN's commitment to raising awareness about the health disparities experienced by minority populations.
"We want to help everybody. That is always the goal. Every single person in the world who has pancreatic cancer," she said. "You help everyone by making access more equitable. The fact that PanCAN recognizes these disparities and is trying to close the gap makes me fall more in love with my mission in this organization."
Haga una donación
de cualquier tamaño hoy para acelerar el progreso para los pacientes. Todas las iniciativas científicas y clínicas de PanCAN, incluyendo el programa de servicios para el paciente, PanCAN Patient Services, son financiados por patrocinadores generosos.
Make a gift
of any size today and speed progress for patients. All of PanCAN's innovative scientific and clinical research initiatives, as well as its PanCAN Patient Services for patients, caregivers and loved ones, are funded by generous donors.