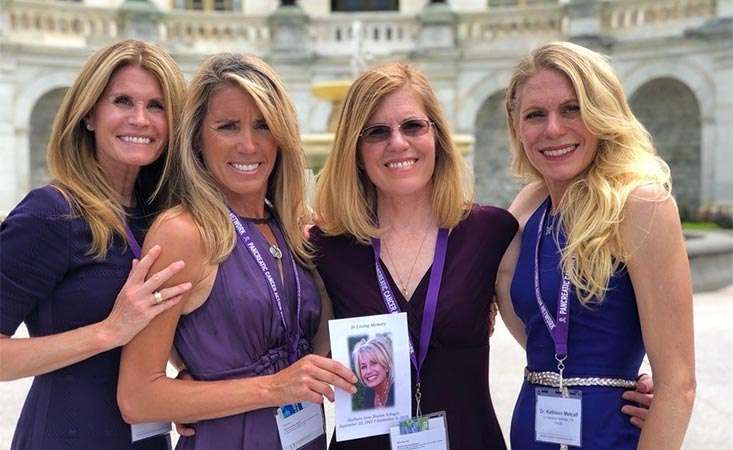 Editor's Note: Today is National Sisters Day. We are sharing this previously published story to celebrate all sisters and the unique bond they share with their siblings.
Today, we recognize Pancreatic Cancer Action Network (PanCAN) supporters who are involved in the cause on behalf of or with a sibling. Thank you to each of them for sharing their story firsthand!
Dianne Peranich, California
Our sister, Barb, was number two in the lineup of five girls and one boy. Despite her petite frame, Barb was a mighty force.
While she did not display the athletic prowess of her siblings, she discovered at a young age that her competitive and determined nature manifested itself in her ability to sell. Our grandpa used to say, "Barbara could sell ice to Eskimos!"
It was the blessing of this tenacious and fighting spirit that would serve Barb well when, in September 2008, at the age of 43, she received the devastating diagnosis of stage 4 pancreatic cancer.
Barb was incredibly gregarious and magnetic. She was so social that even her chemo sessions became an event not to be missed – a round of chemo and lunch to follow! And boy, could she talk!
Her gift for gab made making friends easy, and she was a deeply loyal friend. Her loquaciousness also made it difficult to win an argument with her.
Barb was a gift-giver. We always said it was one of her love languages, and thus a birthday or anniversary never passed without a gift, a card or a call from Barb.
Sometimes she would make up a reason to give you a gift just because she saw something cute and couldn't wait to give it to you. She even gave her oncologist a purple tie, which he wore at every appointment with her and even to her funeral.
We turned to her for advice. Whether fashion (we were always borrowing her clothes!), design, entertaining, etiquette, child rearing, etc., Barb had an answer.
It was her strong and dynamic personality that left an indelible mark on her two sons. They were just 12 and 14 when pancreatic cancer took their mother from them.
Barb had a deep faith in God and was a big believer in "signs." We still receive signs from her in the form of "dimes from heaven." Many who knew her still find dimes in the most random places but in times that seem most appropriate.
Barb became involved in PanCAN first. She began advocating, and we all seemed to fill our wardrobes with purple. Her enthusiasm for advocacy was so infectious, it seemed natural to pick up the torch and continue after she left us on Sept. 9, 2010, one day before her 45th birthday.
For my siblings, the best way we can do this is to be involved with PanCAN. It is through advocating in Washington, D.C., participating in PurpleStride, and providing financial support, that we can channel our grief and continue the fight on behalf of our beautiful sister.
At Advocacy Day, we are known as "The Sisters," and as we walk through the halls of Congress and the U.S. Capitol, we feel Barb with us.
If we can use our four voices to make up for the silence of hers, we honor her and all those loved ones affected by pancreatic cancer.
David Sisco, Virginia
My sister Gail and I were very close growing up. She was older by 10 months. We grew up in a small town and shared many friends as well as all types of experiences together.
I taught her how to drive a stick shift, and she often drove us to high school. On the drive home, there was a steep incline, and I remember getting in the driver's seat for that part of the trip every day for weeks until she got the hang of it.
After college and working two years in Puerto Rico, I moved in with Gail and her husband so I could get established and find my own place. She was kind, giving and always thought about others first. She never had children but would have been the very best mom.
We lost Gail in 2003.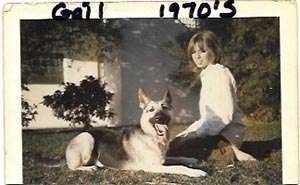 We had not known there was an organization like PanCAN until one day, I was reading the paper and saw an article about PanCAN's Tidewater (Va.) Affiliate. I joined as a volunteer.
Being a part of the affiliate the past seven years has brought me friendships and much joy. I feel energized when I am doing things for the cause, and closer to Gail. I know she is always present.
Lori Goldblatt and Robin Goldblatt, California
Lori: My sister Robin is an incredible person. My hero. She is strong, a true fighter, smart, beautiful, generous and has a great sense of humor. She is not just my twin sister but my best friend who I know will always be there for me.
She has a huge heart and would do anything to help anyone, as shown by what she did for our best friend who was more like a family member. He passed away from pancreatic cancer. She and I were his caregivers. Later, she was diagnosed with pancreatic cancer.
Our involvement with PanCAN has been a godsend, especially since Robin was diagnosed. We had so much information, experience with this disease and most importantly, a ton of support.
It is incredible every year at PurpleStride Los Angeles seeing so many more survivors. It's uplifting and offers encouragement and hope. Giving back to PanCAN has enriched our lives. Especially Robin's. Being a survivor, she has the platform to be the teacher now to others diagnosed.
Robin: My sister Lori is amazing, awesome and a great caregiver. She has been my rock through my diagnosis. I would not be able to get through this without her.
Virginia Holleman, Texas
I was the first twin born. Our mother always called Betsy, "Grace and Favor Child." Not sure what exactly she meant by that, but it fit. She was a breast cancer survivor and sailed through that treatment without missing a beat.
Betsy could be feisty, but she was also one of the kindest, most thoughtful people I knew. She brought out the best in people, which stood her in good stead when she moved to Dallas from New York in 1992.
She moved because my first husband had died and together, we finished raising my two young sons.
Betsy was a freelance television commercial producer in New York but transitioned into working with nonprofit organizations in Dallas. She volunteered tirelessly for Susan G. Komen and the Suicide and Crisis Center of Dallas, where she also served on the board. She also taught 6th grade confirmation classes at her church.
She died in 2008, almost 14 months after diagnosis.
Getting involved with PanCAN is my way of fighting back. She absolutely would have done the same had our roles been reversed – and with her organizational skills, she would probably be running PanCAN by now! She was passionate about things that mattered to her, and PanCAN would have been at the top of her list.
Our family has come a long way since her death. I attend affiliate meetings and PanCAN's Advocacy Day, and sharing my story and listening to others share theirs helps in the healing process. So does PurpleStride – it always makes me cry.
Get involved
with PanCAN today for a life-enriching experience.