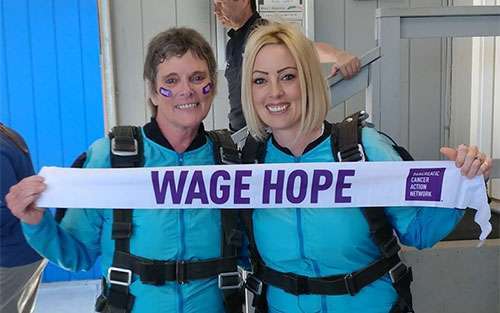 For each of us involved in the cause, it started with someone -- the reason we were compelled to get involved and change the story of pancreatic cancer. Today we're introducing a new series about the "someone" behind the motivation, called, "It Starts with Someone."
To start the series, we introduce you to Natascha Martin, a new staffer at the Pancreatic Cancer Action Network. Today is her third day on the job. Paid day, that is. Martin has been fighting for a brighter future for pancreatic cancer patients as a volunteer with our Orange County (Calif.) Affiliate long before this week. Here is her inspiration:
My "someone" is my mother, Susie. She was diagnosed on April 15, 2016. Prior to that, she had been the sole caregiver for my stepdad, who also had pancreatic cancer. He survived 11 months.
I got involved with PanCAN when he was diagnosed. I was connected with Ana Shook, the volunteer Affiliate Chair in Orange County. She told me about PanCAN Patient Services, and I passed the info on to Mom, who used their resources as a caregiver.
When my mom was diagnosed, I reached back out to Ana and said, "You'll never guess what has just happened…"
This time, it was my turn to use PanCAN Patient Services. My mom moved to California from Indiana to be closer to me, so I could care for her. I was by her side for every doctor's appointment, chemo treatment and throughout her Whipple recovery.
Having the support of PanCAN and the Orange County Affiliate was a blessing.
I started a team last year for PurpleStride Orange County, and then I learned a leadership position was available within the affiliate. When Ana asked me if I wanted to get more involved, I said, "Heck, yeah, I do!"
I became the Media Relations Chair for the affiliate and enjoyed it, but still, I wanted to do more.
I saw a job opening on the PanCAN website, and I applied. Now, here I am in my first week on the job! I'm overseeing PurpleStride walks hosted by volunteers, and I can't help but feel directed toward this opportunity.
My family hasn't gone through all the pain and suffering for nothing – there has to be a greater good in this. And that's what this job is. I'm being guided toward giving back and raising awareness in a bigger way. PurpleStride gave us so much inspiration when we attended, so to get to be part of that as an employee is incredibly inspiring.
I also want to see less families going through what we have. If I can bring a hug or smile to someone, all the better. I refuse to let pancreatic cancer surround us with more negative energy. Instead, I'm flipping the script and embracing this disease – I'll continue to volunteer, too, as a way to spread positive energy to others who need it.
Recently my mom and I skydived together. I wasn't surprised she wanted to do this. Other survivors in our affiliate were going, and my mom is not one to back down from a challenge. That's how she's been her whole life – a hard-charger.
When I was growing up, she didn't take a lot of time to smell the flowers. Now she is the opposite of that. She's seven months out from her Whipple and has completely recovered. She's enjoying being a grandma!  She's an inspiration to me and everyone we know. I respect her courage, her strength and all that I still learn from her.
Join Natascha and others making it their mission to help us double pancreatic cancer survival by 2020. Get involved today.