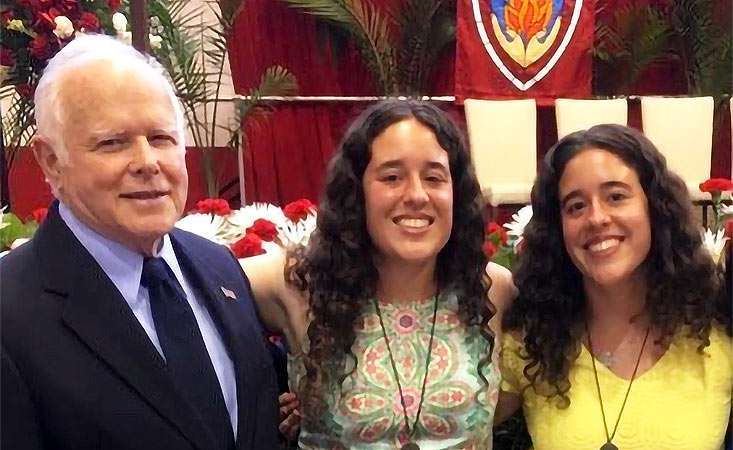 Editor's note: It's Grandparents Day! Read on for the story of how two sisters honor their late grandfather.
No matter how hard things get, always look at the bigger picture and see how you can help others.
This was just one of many lessons that Brianna and Kaitlyn Cocuzzo learned from their grandfather, Patrick Lundy.
More recently, when they learned they could volunteer with the Pancreatic Cancer Action Network (PanCAN), the identical twin sisters felt that would be the very best way to pay tribute to him. He died of pancreatic cancer in March 2019.
Fond memories of him live on.
Brianna and Kaitlyn grew up in New York, just five minutes from their grandparents. Their grandfather was always there to greet them when they got off the school bus, drove them to cross-country practice, gave them rides to friends' houses and supported them in every way.
Usually he was a very level-headed and even-keeled person, which is why they'll never forget the time when they were about 8 years old and he accompanied their family to a N.Y. Mets baseball game. He got VERY excited about all the potato chips he could eat at the game.
"He LOVED chips, and he was like a 5-year-old at Christmas. That was really cool to see," Brianna said.
Even during somber moments, their grandfather found ways to cheer them up.
Kaitlyn remembered the time that all 25 cousins traveled from across the country and surrounded their grandfather on what would turn out to be his last birthday. It was February, a month before he died, and he was the one who kept the mood light. He was focused on their happiness – and keeping sadness at bay.
"He was having so much fun with all of us," she said.
Today the sisters are in medical school in Florida and both plan to specialize in pediatrics. In their "downtime," they volunteer with PanCAN's Broward-Palm Beach Affiliate – Brianna as the social media chair and Kaitlyn as the PanCAN PurpleStride Broward-Palm Beach event experience chair. Their team, Prayers, Purple and Progress for Patrick, will participate virtually this year on Nov. 15.
Kaitlyn said an unexpected benefit of volunteering is being able to give back to patients now and in the future – raising awareness and funds for the disease means that hopefully others will get more time with their loved ones.
"We thought that only getting seven-and-a-half more months with our grandfather was short, but we learned that too many people are getting even less time," she said.
The sisters participate in a lot of 5Ks, but a favorite is PurpleStride because, as Brianna said, "It's family-oriented, super fun and it's for a great cause."
Through PurpleStride and volunteering they are learning more about what PanCAN does in the fight against pancreatic cancer. Brianna said that she thought PanCAN only funded research when she first got involved, and she was grateful to learn about its one-on-one support for patients and families and all the free resources through its Patient Services.
Their grandfather had always said that suffering in the world was hard but necessary, and that in the end, it made the world better and people stronger.
Brianna and Kaitlyn think back to the time when he was in the hospital, sick with sepsis, and their family was told he might not make it through the night.
"Rather than being afraid or thinking about himself," Brianna said, "he asked us to pray for his roommate, who was in pain. He said, 'I always want to make sure to help someone who is worse off than I am.'"
Kaitlyn summed up that sentiment of helping others, saying, "We think the best way to honor him is to do what we can to help make things better for others."
Join Brianna and Kaitlyn to raise more awareness and funds for pancreatic cancer.
Sign up
for a PanCAN PurpleStride today.